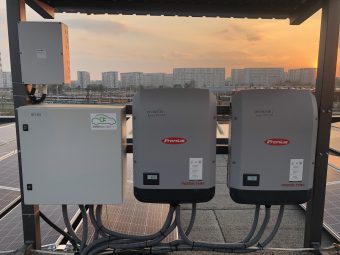 Dear Fronius customers and partners,
We ́ve got good news: With immediate effect, the new Fronius warranty promotion is in place. After registering the Fronius inverter in Solar.web, you will now receive 5 years of Fronius Warranty Plus instead of 2 years!
That means: In the event of a warranty claim, material, labor, and transport costs are covered. With a 5-year maximum warranty, your customers get an all-round carefree
package and you get even more satisfied customers.
But that ́s not all: 5 becomes 10
It gets even better: Following the term of the Fronius Warranty Plus, you will automatically
receive a 5-year Fronius Warranty, which will continue to cover all material costs in the event of a warranty claim.
A Clear Recommendation: Spread the Word
MT-KOMEX, the official representative for Fronius in Serbia, now offers a 10-year warranty on their inverters with a capacity of up to 12.5kW, an improvement from their previous 7-year warranty. The free Fronius Warranty extension applies to all new Fronius inverters up to and including 12.5 kW that are commissioned after September 1st 2023. Make your customers aware of this free service right away and help pave the way for 10 years of
peace of mind.
Two simple steps to 10 years warranty
1. Install a Fronius inverter up to and including 12,5 kW
2 years of Fronius Warranty Plus are automatically included
2. Register the inverter on Solar.web
You receive an additional 3 years of Fronius Warranty Plus and 5 years Fronius Warranty
Source: Fronius