Tesla is to open a new electric car production plant in Shanghai, its first outside the US, chief executive Elon Musk said from the city on Tuesday.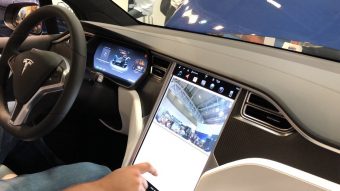 The new auto plant is slated to produce 500,000 cars a year, taking Tesla's total global manufacturing capacity to 1m vehicles a year. Most automotive factories are tooled to produce 200,000 to 300,000 vehicles a year.
The Shanghai municipal government welcomed Tesla's move to invest not only in a new factory in the city but also in research and development. It suggested it would help with some of the capital costs saying it would "fully support the construction of the Tesla factory".
China has long pushed to capture more of the talent and capital invested by global automakers in advanced electric vehicle technology. Shanghai is one of the centres of the Chinese automotive industry.
Tesla said the first cars would roll off the Shanghai production line about two years after construction begins on the factory. Production will ramp up to 500,000 vehicles a year about two to three years later, roughly matching the planned output at Tesla's current Fremont, California factory.
The announcement came as the price of Teslas made at the company's US factory and sold in China rose as a result of the new 25% tariffs imposed by the Chinese government in retaliation for Donald Trump's increase in duties on Chinese goods. Tesla had been in protracted negotiations to open a Chinese factory to help bolster its position in the country.
China is the world's largest auto market with more than 28m vehicles sold last year, and annual sales are forecast to top 35m by 2025. It is also the world's largest market for electric vehicles, driven by new regulations and China's aim to have 100% electric vehicles by 2030.
Tesla shares were up 1.5% in early US trading, even as some analysts questioned where the loss-making company will get the capital required to build and staff such a large plant. Tesla has burned through more than $1bn in cash while struggling to ramp up production of its all-important mass-market Model 3 electric car.
Tesla recently hit its 5,000-a-week production target for its Model 3 and opened up its configuration system to those with vehicle reservations, of which it has over 450,000, requiring a further $2,500 (£1,886) deposit from each buyer.
Musk has said Tesla will be cash-flow positive this year. Analysts have predicted the company will raise capital to fund a list of new projects, including launching an electric semi truck, a pickup truck and a compact SUV, as well as new battery and vehicle production facilities that Musk has proposed for China and Europe.
Source: Guardian