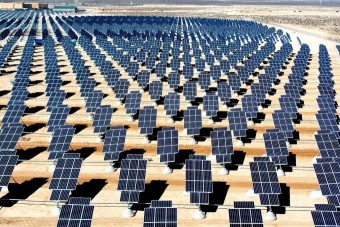 The newly opened Mokran Solar Power Plants Complex is the latest proof of Iran's ambitions in renewable energy.
The country's biggest solar plant was constructed in the eastern province of Kerman in six months and has a capacity of 20 megawatts.
Made up of two 10 megawatts photovoltaic units, it was financed with 27 million dollars by the Swiss company Durion AG, and supervised by a German company, Adore.
The complex has been built with a total number of 76 thousand and 912 solar panels, each producing 260 watts in an area of 44 hectares.
A number of countries including Switzerland, Germany, Spain, China and South Korea have shown interest in investing in renewable energy in Iran. The Iranian Energy minister, Hamid Chitchiani, says there have been offers of over 3.5 billion dollars in foreign investment so far and it is the most attractive field since the nuclear deal.
 – Now solar and wind technologies are very, very cheap. Cheaper, than energy from gas, oil, coal or nuclear so, we can replace the conventional energy systems with 100 percent renewable in the future- says Hans Josef Fell, President of the German Energy Watch Group.
Mokran Solar Energy company has also started the construction of a 100 megawatts solar power plant, which will be Middle East 's largest.
With over 300 sunny days and an average of 2800 hours of sunshine, Iran is considered one of the best countries for producing and using solar energy.
This potential and the incentives offered by the government have provided worthy opportunities for investing in this field.
Iran planned to use renewable energies two decades ago, but its progress has been sluggish. Out of the 76 thousand megawatts capacity of Iran's power plants, only 12 thousand megawatts come from renewable energies, with the largest share from hydroelectric energy.
However, solar, wind, biomass, geothermal and small hydro turbines have been increasing recently.
Source: euronews.com