Oslo, Norway is the capital environmental city for Europe in 2019 and is dedicated to becoming a zero emissions city by 2030. So it is fitting that it is adding 70 electric buses to its public transportation fleet this year. Several electric buses have been operating in the city for the past two years. The lessons learned from those vehicles has convinced Ruter, the agency in charge of public transportation for Oslo, to place an order for 70 more.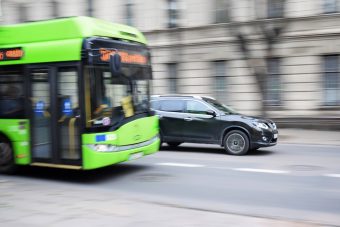 "We hope Oslo citizens welcome the electric buses. We believe our customers will appreciate buses that will provide better air quality, less noise, and a more comfortable and quiet journey," says Snorre Lægran, planning director for Ruter. It has entered into agreements with three local bus companies — Unibuss, Nobina and Norgesbuss — according to a report by Elbil, the Norwegian Electric Vehicle Association.
The buses will be manufactured by Netherlands company VDL. About one third of them will be articulated vehicles that seat 46 passengers, have a 170 kWh battery, a range of 70 to 90 km, and a maximum charging power of 450 kW. The conventional buses will seat 34, have a 127 kWh battery, a range of 70 to 110 km, and a maximum charging power of 375 kW.
At a ribbon cutting ceremony marking the arrival of the first of the new buses for Unibuss, Lan Marie Nguyen Berg, the city council member responsible for environment and transportation said, "Electric buses provide a more attractive public transport service. Oslo now gets the Nordic region's largest fleet of electric articulated buses. Electric buses are a good contribution to Oslo becoming a zero emission city by 2030."
Electric buses don't just show up one day and immediately begin replacing existing vehicles. Up to 600 drivers need to be trained how to operate them properly as their range depends on several factors, including topography, weather conditions, and driving style. Extensive testing will also be done to study the interaction between the buses and the charging infrastructure they will use under various conditions. Stress tests will be conducted to see how far they can go on a single charge without leaving passengers stranded in the middle of a route.
Other Norwegian cities making the transition to electric buses include Trondheim, Lillehammer, and Kristiansand. Norway is proud of its leadership role among European nations when it comes to electric transportation. Thanks to aggressive government policies, it is the world leader in sales of electric and plug-in hybrid cars and is rapidly transitioning its extensive ferry fleet to electric propulsion. While other nations are talking the talk about cutting carbon emissions, Norway is walking the walk.
Source: Clean Technica