On Saturday, More than 6,000 climate activists shut down five bridges in Central London. The protest, organized under the banner of Extinction Rebellion to call for urgent action on climate change, was the first to intentionally block the bridges "in living memory," the group reported.
The mood was festive as demonstrators from around London held the bridges—Waterloo, Blackfriars, Southwark, Lambeth and Westminster—from around 10 a.m. to well into the afternoon. Extinction Rebellion had been building to Saturday's "Rebellion Day" since it launched itself into the public consciousness a little over two weeks ago by blocking traffic outside London's Parliament Square. The group hopes to pressure the government into increased climate action by using non-violent civil disobedience. Eighty-two were arrested during Saturday's demonstration, BBC News confirmed.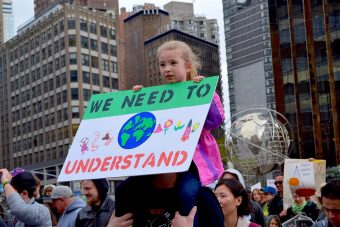 "Because the last two governments have rolled back significant policies which would have helped the UK reduce its carbon dioxide emissions," Margot Gibbs, a 30-year-old journalist from North London, told EcoWatch when asked why she was there. "And because a massive change is required."
Specifically, the group is calling for the UK government to institute policies that will allow the country to reach carbon neutrality by 2025, and to create a "Citizens' Assembly" to oversee those radical changes.
Saturday's protest wrapped up at 5:30 p.m. with a tree-planting ceremony in Parliament Square, according to Extinction Rebellion. A crowd of around 3,000 watched as an apple, plum and evergreen tree were planted just outside where the UK government meets. But that isn't the end for the growing movement. Organizers are calling for people to join them back at the square next Saturday for "Rebellion Day 2.
Source: Eco Watch