Biomass – the most widespread and inefficiently used source of energy
Limited resources of fossil fuels and the greenhouse effect that man has created, bring us back to sustainable fuels. Biomass is a carbon-neutral renewable energy source that is constantly available in eco-systems.
Biomass includes biogradable parts of wood industry by-products, wastes and residues of biological origin from agriculture (which includes plant and animal matter), as well as industrial and municipal waste.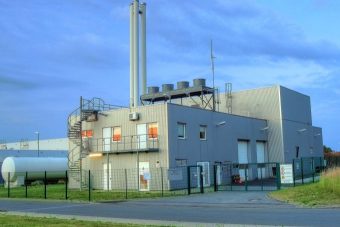 Photo-illustration: Pixabay
Combustion of biomass yields heat energy that until recently has most often been used for heating, cooking or heating hot water. In the last decade, biomass is also used to produce electricity. For energy purposes, biofuel can also be used, obtained by converting biomass into liquid state, as well as biogas, obtained by decomposing various biological wastes into a gaseous state.
What is the potential of biomass in Serbia?
When assessing the availability of this raw material, the following data should be taken into account:
* Biomass resource is estimated at 3,405 million tons of oil equivalent
* Biomass makes up 61% of the total potential of renewable energy resources
* Available quantity of wood, which is mostly represented in central Serbia, is 1.53 million tons of oil eqivalent
* Agricultural biomass (residues in agriculture, cattle breeding, fruit growing, wine growing and primary food processing) is available in Vojvodina and its potential is about 1.67 million tons of oil eqivalent, but its utilization rate is not more than 2 percent.
When it comes to biofuels – and this includes bioethanol and biodiesel – we should bear in mind that the market surplus of cereals, as well as potato, sirak and jerusalem artichokes that can be planted for the purpose (energy plantations) on about 100,000 hectares of unused marginal land, represent raw materials for the production of bioethanol while oilseeds, such as sunflower, soybeans and oilseed rape are used for the production of biodiesel. They can also be grown for the purpose on free land of low utilization value whose area in Serbia  is estimated at 350,000 hectares. In addition, almost 10,000 tons of waste edible oils can be collected and used for the production of biodiesel.
Despite rich biomass resources, both in terms of its biodiversity and its distribution, it is still not sufficiently used in Serbia for the efficient generation of energy. Moreover, in the south and east of our country the wood mass is primarly and uncontrolledly used as a wood for heating.
However, instead of predominantly obtaining a limited amount of inefficiently used heat from biomass, we can use it in dedicated installations for the simultaneous generation of heat and electricity.
How to use biomass for the generation of energy?
The unique thermodynamic process of combined heat and power generation is applied in CHP (combined heat and power) plants, which drastically increases the usability of biomass or biogas.
While in other power generation  systems, the primary fuel utilization factor is 30 to 40 per cent, in CHP plants this factor reaches more than 85 per cent, since waste heat energy, in the form of steam or hot water, released during the process of electricity generation, is used for the needs of the technological process or for heating the premises. This creates significant savings in the operational and total costs of the plant.
In the diagram below, you can see projection of the Government of Serbia to build capacities for electricity generation from renewable sources and the share of biomass and biogas power plants in the total projected power of power plants in the range from 2015 to 2030.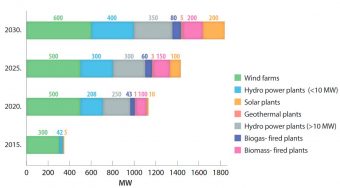 Source: document Energy Sector Development Strategy of the Republic of Serbia for the period by 2015 with projections by 2030
What are the benefits of using biomass for electricity generation?
The producers of electricity from biomass, after gaining the status of privileged electricity producer, can count on several key benefits:
* Based on the Government's Decree on Incentive Measures for Electricity Generation from Renewable Sources, investors have guaranteed purchase price for electricity, depending on whether they use biomass, biogas, landfill or other gas in their plants as a fuel source.
The table shows current electricity purchase price according to the Decree on Incentive Measures.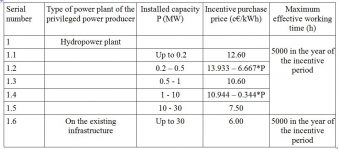 Explanation about the conditions and procedure for acquiring the status of a privileged electricity producer is found in this Government's Decree.
* Investors in biomass, biogas or landfill gas plants after gaining the status of a privileged power producer can count on the incentive purchase price of the produced electricity within a 12-year period, while the investment return period ranges from 7 to 9 years.
* There is a free capacity for biomass and biogas power plants, since the prescribed quotas have not been used yet and they are valid until 2020, according to the following categories:
-for the biomass power plants quota is 100 MW, and the installed power so far is 10.948 MW
-for the biogas power plants quota is 30MW, and 12 MW was used
-for the landfill gas power plants all 10 MW are free
-for the waste power plants also all 3 MW are free.
Here you can see the Register of electricity producers from renewable energy sources.
* Investors now have facilitated procedure for submitting documents in the process of issuing location conditions, building and use permits since the system of electronic unified procedure was introduced.
Guide for investors for the projects of Construction of plants and electricity/heat generation from biomass in the Republic of Serbia that was prepared by Ministry of Mining and Energy and United Nations Development Programme (UNDP) can be viewed  here.
* Except for the available wood mass, the planting of forest species can additionally increase the amount of this energy source. Land that is no longer suitable for agricultural production or non-wooded area represent ideal loations for energy planting.
On the website zelenaenergija.pks.rs there is an online platform for trade in biomass in Serbia – the first of its kind in Serbia and the region and one of the few in Europe.
* Many advantages are provided by the very installation of CHP plant: automatic and safe operation and control, lower pressure in the boiler and mechanical stress of the turbine, high efficiency of the turbine, quiet operation, lack of need for the water purification system, very long service life of the plant and wide range of application of CHP (wood industry, dryers, dairy products, brewaries, greenhouses, food industry).
Every year, the pressure on the energy system is intensifying given that the price of  conventional fuels is growing, and the regulations in the area of environmental protection of are intensifying. That is why  the Government has determined as one of its strategic goals to increase the production of energy from renewable sources in order to reduce the dependance of our country on energy import and to increase energy security.
How to start preparing for the construction of a biomass plant properly?
First of all, the future investor is expected to choose a location for the construction of biomass or biogas plant, taking into account the availability and quantity of raw material potentials, as this affect the decision on the capacity of the plant. However, checking the selected location and assesssing the cost-effectiveness of collecting and transporting biomass to the future plant, as well as the cost-effectiveness of the entire investment in accordance with the power plant efficiency, should be entrusted to a design bureau with appropriate exeperience in this field.
When selecting a design bureau, one should check whether the experts who work there have already prepared feasibility studies, conceptual designs and main projects in the field of energy, and whether they know the procedure for obtaining the status of privileged electricity producer.
Energy portal associates can help potential investors in biomass or biogas power plants to get all these pieces of information in the easier way, so if you have any doubts, please feel free to send us questions to info@energetskiportal.rs.
Useful links:
Energy Agency of the Republic of Serbia
Ministry Of Construction, Transport and Infrastructure
Guide to getting building permits
Provincial Secretariat for Energy, Construction and Transport
Environmental Protection Agency
Introduction to the Development of Cogeneration Plants on Biogas