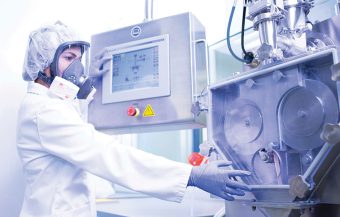 The Alkaloid pharmaceutical company recently celebrated the 45th anniversary of one of its most recognizable brands – Becutan, a collection of skincare products for babies and children.
The story of Becutan is firmly rooted in love and care for children. In 1978, the Becutan brand became an indispensable part of childhood in this region and a synonym for quality. Thanks to constant investments and innovations carried out in Alkaloid's state-of-the-art laboratories, Becutan has been and remains consistent in providing top-quality products. That's why Becutan is used by our youngest and remains a skincare friend to all generations for decades to come.
Becutan and Alkaloid are not only symbols of tradition but also bearers of change, sustainable technologies and nature conservation through energy saving – both in the pharmaceutical industry and sustainable development.
IN FOCUS:
Alkaloid Skopje is a company that has been operational for over eight decades in the production of medication, cosmetic and chemical products and the processing of botanical raw materials. It is present in all markets of the former Yugoslavia and Switzerland, Bulgaria, Turkey, Romania, Ukraine, the Russian Federation, and the USA.
The constant growth of production implies constant investment in production processes and the education of existing and new personnel. There are many areas in which Alkaloid can boast to be a socially responsible company – from helping orphanages and helping sports to be involved in the dual education system.
The company also recorded significant results in saving energy and caring for a healthier environment in which we live. It has set long-term goals, the most important of which is to help the community where we live and do business. Other long-term goals are divided into several segments – identifying the source and establishing a carbon footprint measurement process, devising measures to reduce CO2 emissions, increasing renewable energy production by 12 per cent in the next 25 years, increasing recyclable waste by 10 per cent by 2025, analyzing sustainable PC packaging for CCB and PC Pharmaceuticals, identifying sources and establishing a water footprint measurement process for all of the company's sites by the end of 2023.
The first results are already visible in daily production, especially in the main production plant in Skopje. So far, CO2 emissions have been reduced by 1,285 tonnes, new bicycle parking spaces have been built, encouraging employees to use bicycles more in their daily commute, and 5,000 m3 of water has been saved, i.e. 1.5 per cent used in total production.
A digital platform for professional communication has also been launched, which saves on the energy consumption of other materials, such as paper. These are all parts of the company's ESG strategy.
Alkaloid Skopje
Read the story in the new issue of the Energy portal Magazine RENEWABLE ENERGY SOURCES