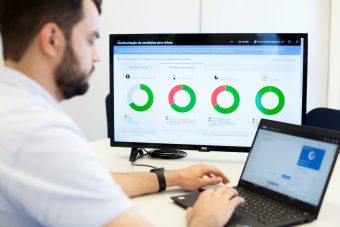 This weekend, the ABB FIA Formula E World Championship is bringing the inaugural São Paulo E-Prix to Brazil, the world's seventh most populous country with a strong tradition and fan base for motorsport.
Set to be another fast track that shows off the increased power of the Gen3 car, the 14-turn, 2.96km circuit winds around the streets of the Anhembi district of the city. The cars will start on a main straight usually reserved for carnival floats, before continuing through two additional straights and a combination of tricky chicanes, sweeping corners and tight turns.
It's fitting for ABB, official charging partner of the series, to be partaking in this demonstration of the future of e-mobility in Brazil. ABB was named among the 100 most influential companies in mobility in the country in 2021, according to a survey promoted by Connected Smart Cities and O Estado de São Paulo.
ABB's E-mobility business has grown year after year in Brazil, driven by increased adoption of EV fleets including last mile fleets, with vehicles such as electric trucks, vans and delivery vans. Projects that have contributed to this growth include ABB's collaboration with energy company, EDP Smart, and automotive manufacturer, Audi, where ABB DC Wallbox chargers were installed at Audi dealerships across the country. The e-mobility sector is a priority among companies with firm environmental policies given the potential impact of the adoption of electrified vehicle fleets on achieving CO2 reduction targets. This uptake in EV adoption is reflected in the 47 percent increase in EV sales in the first two months of 2023 (compared with 2022) according to ABVE – The Brazilian Association of Electric Vehicles. This is key to lowering emissions in mega cities like São Paulo.
More:
Luciano Nassif, Country Holding officer, ABB Brazil, said: "The ABB FIA Formula E World Championship being held here in Brazil, where motorsport passion runs high, is an opportunity to educate a large number of people about the benefits of energy efficiency and more sustainable forms of transportation. ABB has been working in Brazil for more than 110 years to drive sustainable progress and, for us, this is another positive step in the journey to enable real change."
Energy management and efficiency are factors that are not only central to the sport but also to the ABB solutions being implemented in a range of projects throughout Brazil to improve sustainability. One such project is with Saneago, a sanitation company operating in the state of Goiás, where ABB is modernizing the drive systems for motors and electric pumps. ABB provided a digital solution made up of intelligent sensors, which work together with 15 electric motors and frequency inverters to control speed and optimize energy consumption, enabling savings of more than 6000 MWh per year.
ABB's focus in Brazil extends beyond saving energy, to ensuring more of the energy used is renewable. The company recently announced it has signed a memorandum of understanding with the government of the state of Ceará (CE), Brazil, to develop a hub for the production of green hydrogen in the state. The agreement aims to carry out feasibility studies with local companies in order to evaluate the possibility of developing projects in this area and position the country as a producer, exporter and distributor on a global scale. Brazil is one of the countries that produces the most renewable energy in the world.
The São Paulo E-Prix is one of this season's FIA Girls on Track locations, where ABB will be running a robotics workshop as part of its global partnership with the program. Girls aged 12-18 will learn basic programming with one of the company's GoFa™ collaborative robots. Ahead of the race ABB has also released the latest video in its FIA Girls on Track video series. Featuring Formula E Sporting Director, Claudia Denni, the video showcases her high-pressure role, her route into motorsport and the career challenges she has faced.
A new episode of the company's podcast, ABB Decoded, is also now available. ABB ambassador and reigning champion, Stoffel Vandoorne, discusses his career path to Formula E, the differences in driving the new Gen3 car and the importance of being part of a sport which is driving the EV revolution.
Following the race in São Paulo, the series will head to Berlin, for a double-header race weekend on April 22nd and 23rd. The season 9 calendar features 16 races in 11 global locations.
ABB is a technology leader in electrification and automation, enabling a more sustainable and resource-efficient future. The company's solutions connect engineering know-how and software to optimize how things are manufactured, moved, powered and operated. Building on more than 130 years of excellence, ABB's ~105,000 employees are committed to driving innovations that accelerate industrial transformation. www.abb.com
About Formula E and the ABB FIA Formula E World Championship:
As the world's first all-electric FIA World Championship and the only sport certified net zero carbon since inception, the ABB FIA Formula E World Championship brings dramatic racing to the heart of some of the world's most iconic cities providing an elite motorsport platform for the world's leading automotive manufacturers to accelerate electric vehicle innovation.
The Formula E network of teams, manufacturers, partners, broadcasters, and host cities are united by a passion for the sport and belief in its potential to accelerate sustainable human progress and create a better future for people and the planet. www.FIAFormulaE.com
For Formula E media enquiries, please contact – media@fiaformulae.com
Source: ABB