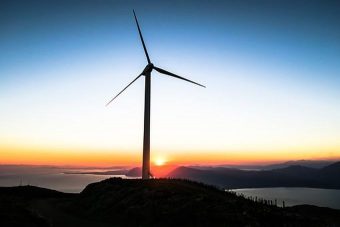 AC ENERGY Holdings, Inc., through a renewable energy development unit, is looking to expand by 69 megawatts (MW) its wind farm in Pagudpud, Ilocos Norte to bring the total capacity to 150 MW when completed.
Roman Miguel G. de Jesus, president and chief executive officer of AC Energy subsidiary North Luzon Renewable Energy Corp., said an application for a service contract for the added capacity has been filed with the Department of Energy (DoE).
"We're waiting for it. It's pending with the DoE," he told reporters on Friday, when the company showed its wind farm in Brgy. Caparispisan, Pagudpud to media and executives of the Energy Regulatory Commission.
Mr. De Jesus looks after AC Energy's 36% economic stake in the 81-MW wind farm, and also heads the holding firm's retail electricity supply business.
John Eric T. Francia, president of AC Energy, said the company was not banking on the guaranteed rate previously offered by the government through the feed-in tariff (FiT). The current project made it to the first round of FiT, which awarded a rate of P8.53 for each kilowatt-hour exported by a developer to the national grid for 20 years.
"Our assumption is we're not banking on FiT," said Mr. Francia. "(DoE Secretary Alfonso G. Cusi) has stated that quite explicitly."
"The way I view it, at least, is in phases. Phase one in terms of kicking off renewable is through feed-in tariff. Phase two is through RPS (renewable portfolio standard)," he added.
The DoE has yet to issue the guidelines for RPS, a market-based policy that requires distribution utilities and other industry participants to source a portion of their power supply from eligible renewable energy resources.
"These are just two interim phases before you get to a stage where renewables is totally competitive," he said.
Under the FiT system, qualified developers of emerging renewable sources are offered a fixed rate per kWh of their exported electricity, but excluding the energy for their own use. Their entitlement is taken from a "feed-in-tariff allowance" billed to all on-grid electricity consumers who are supplied with power through the distribution or transmission network.
The FiT system is one of the policy mechanisms provided in the law being implemented by the DoE to encourage the development of the renewable energy industry. The agency, under the previous administration, had aimed to maintain a 30% share of clean energy in the country's power mix.
The second round of wind energy FiT with a 200-MW installation target offered a rate of P7.40 per kWh.
AC Energy also has a 68% stake in the 52-MW NorthWind Power Development Corp. and 100% interest in the 18-MW Monte Solar Energy, Inc.
"At least AC Energy, we're not pushing for a FiT 3. What we're pushing for and hoping for is the implementation of the RPS," Mr. Francia said.
The wind farm in Caparispisan uses 27 units of Siemens SWT-3.0-101 wind turbines, where each turbine has an installed capacity of 3 MW. It started its commercial operations in November 2014.
Mr. Francia also said that AC Energy is keen on talking to one of its partners — UPC Renewables Philippines — should it build a 150-MW wind farm in Balaoi, which is near Caparispisan.
"We'll talk. If that expansion happens or before it happens, then we undertake to discuss it with our partner, with UPC," he said.
Mitsubishi Corp.'s Diamond Generating Asia Ltd. and the Philippine Investment Alliance for Infrastructure Fund are AC Energy's other partners in the Caparispisan wind farm.
AC Energy aims to reach 2,000 MW of attributable capacity, or the equivalent in megawatts of its economic stake in various projects, by 2020. Of that target, 1,000 MW is targeted to be renewables. It installed around 1,000 MW in 2016, with renewable energy accounting for less than 10%.
In traditional energy, the company has a 20% in the 632-MW GNPower Mariveles Coal Plant Ltd. Co.; 50% in the 668-MW GNPower Dinginin Ltd. Co.; 35% in the 244-MW South Luzon Thermal Energy Corp.; and 85% in the 552-MW GNPower Kauswagan Ltd. Co.
Based on data supplied by AC Energy, its 19.8% stake in the 637-MW geothermal steam and power capacity in Darajat and Salak geothermal fields along with its 75% stake in the 75-MW wind farm project in Sidrap, South Sulawesi more than doubled the company's clean energy capacity to at least 264 MW.
Source: bworldonline.com