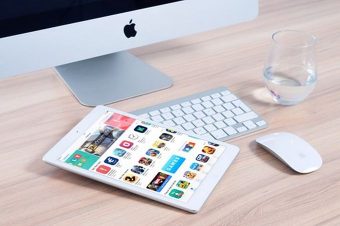 Apple is aiming to use 100 per cent recycled materials to make its iPhones, Macbooks, and other electronics products in future in a bid to reduce its reliance on mined raw materials, the company revealed yesterday.
Publishing its latest annual Environmental Responsibility Report, the IT and electronics giant said its goal was to operate a closed-loop supply chain "where products are built using only renewable resources or recycled materials".
The company said it already has programs in place to enable the responsible sourcing of minerals, metals and other finite materials used in its products. But it added that it was now "also challenging ourselves to one day end our reliance on mining altogether".
The report highlights the Apple Renew scheme to encourage customers to recycle their old devices, as well as Apple's piloting of "innovative new recycling technologies, like our line of disassembly robots, so we can put reclaimed materials to better use in new products".
"It's an ambitious goal that will require many years of collaboration across multiple Apple teams, our suppliers, and specialty recyclers – but our work is already under way," the report states.
However, Lisa Jackson – Apple's vice president of environment, policy and social initiatives – told Vice this week the company did not yet have a fully-fledged plan for reaching the 100 per cent recycled materials goal.
"We're actually doing something we rarely do, which is announce a goal before we've completely figured out how to do it," she said.
Apple has previously committed to making sure all the waste created by its supply chain is reused, recycled, composted, or converted into energy, with 17 of the company's 18 final assembly line and 25 of Apple suppliers having achieved zero waste to landfill status since January 2015.
Moreover, as much as 99 per cent of the paper in Apple product packaging already comes from recycled or responsibly manager sources, according to the company's latest environmental report.
The report also reveals that in 2016 Apple sourced 96 per cent of the energy it used at its global facilities from renewable energy, reducing the firm's carbon emissions by almost 585,000 metric tonnes. It added that it is using 100 per cent renewable energy across 24 countries and in all of its data centres.
Elsewhere it details Apple's carbon footprint in 2016, which stood at 28.5 million tonnes of greenhouse gases, of which 77 per cent came from the company's manufacturing operations, 17 per cent from product usage, and four per cent from transportation.
Earlier this year Apple for the third year running topped Greenpeace's global league table ranking tech firms' decarbonisation efforts.
Greenpeace senior IT analyst Gary Cook praised Apple's latest recycled materials commitment as "ambitious", but said it highlighted the need for greater urgency across the electronics sector to reduce resource consumption and tackle e-waste.
"Transitioning to non-virgin raw materials will help to decrease the demand for mined metals and other inputs, and increase recycling rates of electronics directly," said Cook. "This commitment, and Apple's recent progress in transitioning its supply chain in Asia to renewable energy, puts it far ahead of others in the sector. Major IT brands such as Samsung, Huawei, and Microsoft should quickly match Apple's leadership, if they don't want risk falling even further behind."
The move by Apple follows rival electronics manufacturer Samsung's announcement last month that it now has a plan in place to recycle or repurpose parts of its faulty Galaxy Note 7 phones which it was forced to recall shortly after the product's launch last September.
Cook also called on Samsung and other leading tech firms to now set ambitious targets for using recycled materials. "While transitioning to 100 per cent recycled materials is critical to reducing the sector's footprint, it is also fundamental for Apple and other major IT companies to design products that last, are easy to repair, and recyclable at their end of life," he added.
Source: businessgreen.com