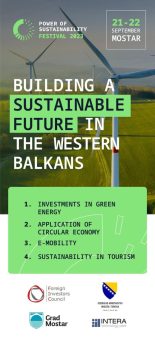 The business gathering entitled,, POWER OF SUSTAINABILITY 2023" Festival which will be held in Mostar on September 21/22, 2023. is a continuation of business networking activities organized by the Foreign Investors Council in Bosnia and Herzegovina and the Intera Technology Park under the patronage of the City of Mostar and the Ministry of Environment and Tourism of the Federation of Bosnia and Herzegovina. The purpose of this gathering is to bring together the most important stakeholders from the Western Balkans region, whose work and activities are aimed at strengthening cooperation with all countries in the region, for the purpose of connecting the regional business community and promoting our region as a unique investment and tourist destination.
This will be the first business event of this kind to be held in Bosnia and Herzegovina under the name:
,,Building a sustainable future of the Western Balkans"
under the motto:
Creating a sustainable community through dialogue!
A starting point towards a green and digital transition.
In the pleasant atmosphere of the City of Mostar and its surroundings, and with a rich program, participants will be able to hear very interesting speakers from the Western Balkan region (Albania, Bosnia and Herzegovina, Kosovo, North Macedonia, Montenegro and Serbia) during the two-day gathering. The conference will gather participants from the business and political life of the region, as well as representatives of the international community, organizations, and business associations and chambers.
At the conference, we will deal with current attractive topics, such as the green agenda of the Western Balkans ( promotion of the initiatives for investments in renewable energy sources, the role of regulators and legislators, and the experiences of private investors, methods of project financing and return on investment, etc.), circular economy models related to waste management, and successful examples of companies related to the restoration and protection of the environment, reducing pollution, as well as respecting international standards and practices, topics related to electromobility and the future of transport and reducing CO2 emissions, as well as topics related to the sustainable development of tourism in Bosnia and Herzegovina and the region.
We believe that the rich and meaningful official program followed by numerous gatherings that include a tour of the natural beauties around Mostar will mark the "Power of Sustainability Festival 2023"  as an excellent platform for exchanging best business practices, but also for networking with key individuals from the countries of the Western Balkans. Opportunities for business discussions and connections will be made possible through meetings and numerous joint activities, as well as informal get-togethers.
"Power of Sustainability Festival 2023" stands out from other similar events not only for the importance of topics and content but also represents a unique interactive platform for the exchange of experiences and opinions, as well as a meeting place for business networking of renowned experts and eminent names from business, social and the political scene of the region.
Key themes:
INVESTMENTS IN THE GREEN ECONOMY – solar and wind energy, energy from geothermal sources
APPLICATION OF CIRCULAR ECONOMY – waste management and its energy utilization, restoration of natural resources
E-MOBILITY – decarbonization of the transport sector with the aim of creating a cleaner, healthier and more affordable future
SUSTAINABILITY IN TOURISM – ecological, economic and socio-cultural aspects of tourism development
Source: POWER OF SUSTAINABILITY FESTIVAL