Norwegian company to fuel liners with biogas made from leftovers of fish processing.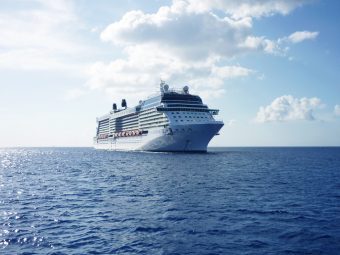 Waste fish parts will be used to power ships in a new initiative to use green energy for polluting cruise liners.
The leftovers of fish processed for food and mixed with other organic waste will be used to generate biogas, which will then be liquefied and used in place of fossil fuels by the expedition cruise line Hurtigruten.
Heavy fossil fuels used by ocean-going transport are an increasing problemas they are even more polluting than fuels for land-based vehicles, emitting sulphur and other contaminants. The fuels contribute to air pollution as well as to climate change. Converting vessels to use biogas will cut down on pollutants and reduce greenhouse gas emissions.
The 125-year-old company, based in Norway, is also banning single-use plastics in an effort to be more environmentally sustainable. It operates cruises in the Arctic and Antarctic, both highly sensitive environments.
Biogas can be generated from most forms of organic waste by speeding up and harnessing the natural decomposition process to capture the methane produced. Organic waste is produced by all food industries but is frequently disposed of in landfill, where it contributes to greenhouse gas emissions as it decomposes.
Shipping has come under increasing scrutiny as many vessels use heavy fuel oil, which is cheap but would be banned on land for its polluting qualities. The daily greenhouse gas emissions from the world's largest cruise liners can be as great as those of a million cars on the road.
Battery power is also a promising technology for ocean-going transport, but building batteries powerful enough has been a problem to date. Advances in battery manufacture are making it possible to install batteries big enough to last a voyage.
Hurtigruten is currently building three new hybrid-powered cruise ships in Norway, to be delivered in the next three years.
Daniel Skjeldam, the chief executive of Hurtigruten, said: "Norway is a large shipping nation, but fishery and forestry are also large sectors. They create jobs and produce income, but they also produce a lot of waste products. The steady access to high volumes of organic waste gives the Nordic countries a unique position on the biogas market. We are pushing for more innovation, more investment. I believe we have just seen the beginning of what in a few years will be a huge sector."
Source: The Guardian