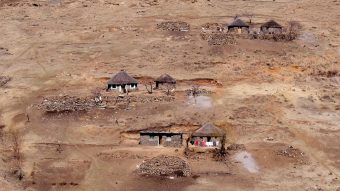 Extreme events such as droughts are known to put agricultural communities under pressure. A new paper in PLOS One now suggests that there is also a link between severe droughts and the spread of HIV in Lesotho.
A Population-Based HIV Impact Assessment conducted after a 2-year drought in southern Africa allowed the authors to evaluate the relationship between extreme events and the spread of HIV. To elaborate on the link, researchers compared results of rainfall data with an in-depth survey as well as HIV tests of 12,000 people.
The comparison revealed that 15-24-year-old women, and especially those living in rural areas and with fewer years of formal education, had a higher risk of acquiring HIV in times of drought. Drought was also linked to lower HIV levels among young men, since having less money constrained their opportunity and will to engage in commercial or transactional sex.
Meanwhile, both young men and women were more vulnerable to getting HIV if they underwent internal migration in times of drought. The team considered circular migration, where one of the partners came back home after a period of staying elsewhere, to be particularly risky for rural families and communities.
The researchers suggest that policy-makers adopt measures that reduce the impact of income shocks and extreme events on HIV transmissions among vulnerable groups of the population. They consider preexposure prophylaxis, as well as economic and social support, to women and immigrants from affected areas as potential prevention mechanisms.
As drought levels may intensify in coming years, this research reminds us of the broader link between climate change and health, which policymakers increasingly will have to deal with.
Source: Sustainability Times