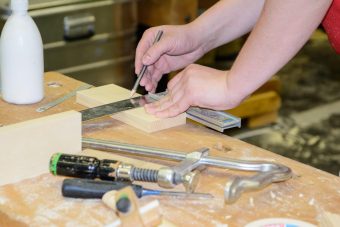 The European Bank for Reconstruction and Development (EBRD) is stepping up cooperation with Komercijalna Banka in North Macedonia by extending a new EUR 2 million credit line. The proceeds will be used to help small and medium-sized enterprises (SMEs) in the country to reboot their businesses after the disruptions caused by the Covid-19 pandemic.
The loan was signed on 12 May during the EBRD's Annual Meeting, which took place in Marrakesh, Morocco.
Francis Malige, Managing Director of the EBRD's Financial Institutions Group, said: "We are very pleased that again together with Komercijalna Banka Skopje we can extend further support for local SMEs. The funds will help small businesses to invest in modern technologies and to recover from the negative effects caused by the pandemic."
Maja Stevkova Sterieva Ph.D., Chief Finance Officer and Member of the Board of Directors of Komercijalna Banka AD Skopje, said: "Continuing with our efforts to support the national economy in this post-pandemic period, we are very glad that we can support SMEs with EBRD's credit line of EUR 2 million. We are especially pleased that the funds from the credit line are intended primarily for investments in green energy and competitiveness, which is in line with our commitment to support and contribute to the development of sustainable businesses."
Komercijalna Banka will on-lend the funds to small firms, enabling them to invest in better-performing green technologies and to improve their working standards and processes. These investments should make local SMEs more compliant with European Union and international standards, therefore boosting their competitiveness in both domestic and foreign markets.
The SMEs will also benefit from grant incentives worth up to 15 percent of the loan amount. The grants will be funded by Luxembourg, Norway, and the United States of America, and other donors are expected to participate.
The credit line is part of the EBRD's new SME Reboot Programme that supports small firms' recovery from the pandemic-induced slowdown. Komercijalna Banka Skopje is the first bank in the country to join the programme, which encourages SMEs to go beyond business as usual and invest in modern and sustainable technologies. Around 70 percent of programme funding will be allocated to investments in energy-saving and green technologies, while the remainder will support investments in automation, increased productivity, product quality, and safety.
Komercijalna Banka is a long-standing partner of the EBRD in its work supporting SMEs in North Macedonia; it has already extended over EUR 7 million to local SMEs under the SME Competitiveness Support Programme.
The EBRD is a major institutional investor in North Macedonia. To date, it has invested more than EUR 2.2 billion in 159 projects there. Supporting green energy is a priority for the Bank, as it addresses one of the country's most pressing challenges: decarbonisation of its economy.
Source: EBRD