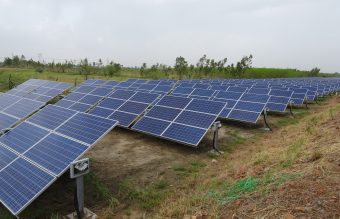 Decarbonisation plans in North Macedonia are taking a big leap forward. The European Bank for Reconstruction and Development (EBRD) is lending EUR 25 million to ESM, the state-owned electricity company, to build a 30 MW photovoltaic (PV) project consisting of 10 MW on a portion of the exhausted coal mine of thermal power plant Oslomej, and 20 MW adjacent to the thermal power plant Bitola. The European Union (EU) is also supporting this development with a EUR 5 million grant funded through the Western Balkans Investment Framework (WBIF).
Andi Aranitasi, EBRD Head of North Macedonia, said: "This is a very important project for the country's energy transition. It is a continuation of our previous work in backing the ambitious decarbonisation plans of North Macedonia by organising solar PV tenders and constructing the first-ever utility scale solar PV plant in the country. The project will help to address the need for energy security and sustainability in a competitive and affordable manner, through investments that will create high-quality jobs and new business ecosystems, while reducing air pollution and greenhouse gas emissions."
The new solar plants are an extension of the first 10 MW PV plant constructed on the exhausted coal mines in Oslomej and are evidence of ESM's and the country's decarbonisation pathway. Once operational, the new facilities will produce nearly 48 GWh of electricity a year – enough to power 10,000 homes and replace 44,000 tonnes of CO2 per year. The project will also support ESM's efforts to rehabilitate the mine sites that used to supply the thermal power plants with coal.
Ambassador David Geer, Head of the EU Delegation to North Macedonia said: "We are seeing concrete actions in materialising the Green Agenda for the Western Balkans and in turning the Economic and Investment Plan into reality. The WBIF investment grant and the EBRD Loan, supporting the transformation of Oslomej and Bitola power plants from coal based to solar energy, represent a clear indication that the country is taking the right steps – moving to green energy, while implementing a socially just transition process. This investment was long overdue, and comes at the right time for North Macedonia, ensuring clean and secure energy supplies."
The country, whose capital Skopje was recently named one of Europe's most polluted cities, aims to source 38 percent of its electricity from renewable sources by 2030. Especially during the current energy crises, this operation will be one of the first projects to simultaneously address key just transition elements by moving towards clean energy use and energy security, while also introducing retraining and reskilling programmes to safeguard livelihoods, support regional development and create new economic opportunities.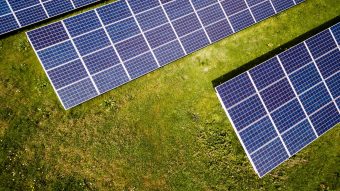 ESM, a public electricity generation utility owned by the government of North Macedonia, provides 90 percent of the country's domestic electricity production – about 3,600 GWh from two thermal power plants and 1,250 GWh from eight hydropower plants. ESM also operates two combined heat and power facilities and the first wind farm in the country, producing about 100 GWh annually.
Furthermore, in favour of decarbonisation and meeting the country's renewable energy target, in 2020 the EBRD provided technical assistance to support the regulatory and legal aspects of introducing renewable energy auctions in three renewable energy tenders for 162 MW combined solar PV capacity. These are the first tenders in the Western Balkan region to be developed with exposure to wholesale power prices, one on public and one on private land, while the third is a public-private partnership tender for 100 MW solar PV capacity on ESM's former coal mine in Oslomej.
The EBRD Shareholder Special Fund (SSF) provided EUR 75,000 for environmental and social due diligence, and EUR 74,000 for the development of basic design and technical specifications for the plants. The EBRD will support ESM with a nationally accredited market-relevant curricula programme to define redeploying and retraining opportunities for a significant share of the affected local workforce, with an approximate budget of EUR 200,000 to be funded from an international donor and SSF under the Gender and Economic Inclusion TC Framework.
To date, the EBRD has invested EUR 2.3 billion in 161 projects in the economy of North Macedonia.
Source: EBRD