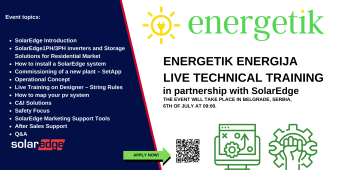 As specialized distributors of photovoltaic components Energetik energija d.o.o. and being in the center of the supply chain, our main focuses are the needs of installers giving them tools and manuals, education and training followed up with the right products and solutions.
Installers daily troubles are the challenges we are engaged to solve with our dedicated technical department available in any stage of the installation: from the design to the commissioning. That's why we create solutions to make their work easier and more efficient.
Accordingly, Energetik energija is organizing "LIVE TECHNICAL TRAINING" in partnership with the manufacturer SolarEdge. The training will include practical installation demonstrations with physical devices.
The event will take place on July 6th in Belgrade with start at 9:00 a.m.
Event topics:
SolarEdge Introduction

SolarEdge1PH/3PH inverters and Storage Solutions for Residential Market

How to install a SolarEdge system

Commissioning of a new plant – SetApp

Operational Concept

Live Training on Designer – String Rules

How to map your pv system

C&I Solutions

Safety Focus

SolarEdge Marketing Support Tools

After Sales Support

Q&A
For all interested, secure your place now at technical training via link.
Any other details, questions, contact our marketing department at milena@energetik.si.
Source: Energetik energija