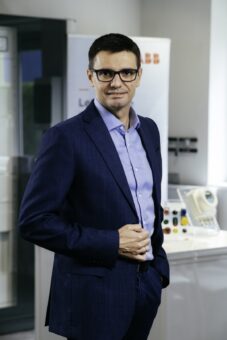 When electricity prices are reaching their historic highs and the climate crisis is triggering the closure of fossil fuel power plants, it is the right time to think about how we can save electricity in our homes and production facilities.
For many years, ABB has been aiding industry and citizens reduce electricity consumption while maintaining maximum operability. Recently, the "Energy efficiency movement" campaign was launched to turn energy efficiency into a global movement.
We talked to Milan Jevremović, Local Business Manager, Motion at ABB Serbia, who explains that the campaign was launched last year with the intention to create a general movement accepted by state and scientific institutions, companies, and individuals. Only together can we create an ecosystem that can help us all consume less energy.
"Our plan for the campaign is to last four years, and we are monitoring how various companies and institutions are involved. We have a lot of foreign companies that have officially joined the 'Energy efficiency movement' as part of their business, and the idea is to continue with that after the campaign is over," Jevremović said.
The research shows that improving energy efficiency could reduce overall global electricity consumption by about 10 per cent.
The last year has brought a shift when it comes to electric motors after a new standard in terms of energy efficiency was set. In June last year, a new regulation came into force in the European Union, which prevents the sale and use of energy-inefficient motors.
"ABB monitors the development of materials and the quality of energy-efficient motors and complies with current regulations. It is especially important bearing in mind that about 45 per cent of the world's electricity consumption is made up of electric motors, and it is expected that the number of electric motors will double by 2040", he explained.
Only energy-efficient electric drives can make a significant difference, says Jevremović, adding that every percentage of savings, even on small home appliances, can make a huge contribution given the millions of such appliances in use.
European countries and their success stories
Almost every responsible company strives to make its business more energy-efficient, and ABB is here to help maximize savings.
Milan Jevremović turned to Ikea, which is consistent with its sustainability strategy and still seeks to reduce total emissions by 80 per cent by 2030. ABB has brought this renowned company closer to this admirable goal through the Energy Efficiency Movement campaign, after which an increase of 25 per cent in the energy efficiency of the system along with a decrease of some 425 tons of CO2 on an annual basis was reached.
Another successful example of improved energy efficiency is the renowned sugar factory in Belgium, which, thanks to ABB, has reduced its electricity costs by 27.42 per cent and its CO2 emissions by nearly 120 tons per year.
These are just some of the companies that, entrusting the energy improvement of their plants to ABB, now operate in the most modern, efficient, and responsible way.
Savings in HHP "Bajina Bašta"
One of the largest reversible hydropower plants in Europe is located in our country. HHP "Bajina Basta" is one step away from significant electricity savings thanks to the static frequency converter successfully commissioned by ABB at the end of April earlier this year.
As Milan Jevremović explained, the installation of a static frequency converter helped HPP "Bajina Bašta" work more efficiently in several aspects.
"I am proud to say that the static frequency converter has been successfully commissioned, and we expect to have the results as planned. We planned the savings around 6 GWh on an annual basis, primarily based on increased operational readiness of hydropower units. In situations when the hydrological situation is favorable, EPS will be able to use the water available in the accumulation much more efficiently", Jevremović points out.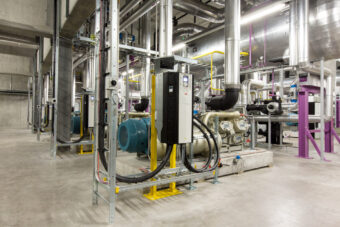 He explains that any such project is important given the current energy situation in Europe, which requires greater investment in renewable energy sources, but also the fact that domestic energy still heavily relies on coal.
"The strength of the SFC and the scale of the project in Bajina Bašta make this HPP practically unique in Europe. This project is also special for ABB, and we are proud to have been a part of it with EPS. EPS announced the construction of another large reversible hydropower plant, and there is also the HPP Đerdap 3 project, which will most likely have an accumulation. We hope that we will help EPS increase the share of RES in the entire production and make sure that such power plants are the most modern and efficient as possible", our guest said.
ABB cooperates with practically all industries and most industrial consumers in Serbia. These days, a local campaign to improve energy efficiency will be launched through various energy assessments, especially ABB Ability™ energy assessments, and Jevremović expects that many companies will join or express interest in this campaign.
Maximum savings thanks to digital energy estimation
ABB provides its customers with the latest technologies, products, and services and introduces innovations for even greater efficiency. In addition to traditional products, energy-efficient motors or frequency-regulated electric motor drives can also contribute to energy efficiency, especially for pump and fan drives. ABB also provides energy assessment services at various levels that can represent basic energy assessments that require engineering and measuring. Since May this year, a new type of service has been offered that combines energy efficiency and digitalization.
ABB's digital power consumption assessment service for electric motor drives will rely on data from digitally connected electric motors and variable speed drives (VSDs) to determine where and how large savings can be made using the latest high-efficiency technology.
We call this digital energy assessment. It allows us to further and better analyze electric motors and propose the best solutions for our customers, both for complete factories and parts of electric drive. In this way, our customers can maximize energy efficiency, improve profitability, and reduce CO2 emissions, Jevremović explains.
According to him, it is no longer enough to increase energy capacities, whether renewable or fossil fuels are used. Still, we must turn to energy efficiency that will ensure that our plants and households continue to function normally but with less consumption.
Increasing the capacity of renewable energy sources, although crucial for climate change mitigation and energy independence, is not likely to happen "overnight" and it is therefore important that we do everything in our power to preserve the environment and reduce costs. Hence the energy efficiency, our guest concludes.
Prepared by: Milena Maglovski
Read the story in the new issue of the Energy portal Magazine RENEWABLE ENERGY SOURCES.