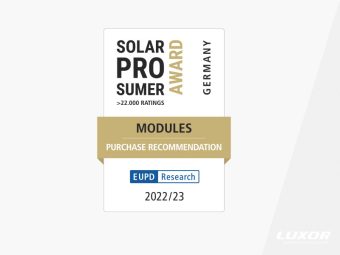 Based on EUPD-Research's surveys among German prosumers in the areas of: Brand Awareness, Product Diffusion and Recommendation, Luxor Solar ranks among the top brands in Germany.
In an independent survey conducted by the Bonn-based market and opinion research company EuPD Research, German prosumers gave the module manufacturer Luxor Solar top marks in the categories of brand awareness, recommendation, and product quality. Due to its special performance, Luxor Solar is awarded the EUPD Research "SolarProsumerAward©".
In this regard, Luxor Solar belongs to the group of top global brands that are entitled to bear the seal.
"We are particularly proud of this award because we are fundamentally oriented towards the needs of our prosumers across all markets. The fact that we are now also perceived directly by them as a top brand in Germany shows us that we are on the right track with our strategy. Their satisfaction is both a confirmation and an incentive for us", says Nino Sijeric, Business Development at Luxor Solar GmbH.
More:
EUPD – SolarProsumerAward©: Award based on a survey among photovoltaic prosumers in Germany with over 22.000 product evaluations.
Source: Luxor Solar