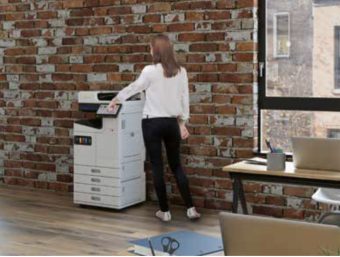 Epson's new products bring static printhead technology to the mid-range market, simplifying the sales process and ensuring end users have the best product in line with the Sustainable Development Goals.
Unlike laser technology, inkjet technology requires less energy, and thanks to its simple design, it curbs the resources used during production and delivery. These printers are smaller, easily fit into offices and save space. Thanks to high-capacity cartridges, there is no need for frequent replacement of consumables, nor additional transport, storage and waste disposal costs. The mentioned products are a significant shift in Epson's printing strategy and support the company's commitment to sustainability.
The launch of the new products also coincides with the company's decision to transition entirely to inkjet technology and to end global sales and distribution of laser printers by 2026. This comes a year after Epson announced an investment of more than 693 million euros in innovation in sustainable development.
This investment move was due to the inability to make a significant change in laser technology so that less heat and, therefore, less energy is used. With fewer moving and spare parts to replace over the printer's life compared to laser ones, the need for Epson inkjet service and maintenance is reduced, as is the number of printer downtimes, thus improving productivity and user satisfaction. Ana Bajagić, marketing manager for the Balkans at Epson Serbia, says that the company's current portfolio of business inkjet printers is completed with the new WorkForce Enterprise AM series.
In focus:
"We can respond to every customer request, whether from small work environments or large organizations that require fast systems. Whatever the function or printing demand, we have the right product. With a full range of support, through Managed Print Services, Workflow and Remote Service solutions, these products are easy to maintain, are of top quality and reliable, and, above all, make a sustainable printing system," Ana adds.
More about the new product range
The most practical storage solution and significantly reduced weight

Improved reliability and reduced paper jams, thanks to the C-shaped paper inlet

10.1-inch interface panel – simpler and smarter with eco-printing settings

Simple and easy to use with automatic paper size detection and soft close paper trays

Easy loading, compact, high-capacity cartridges

Space with a large paper capacity – up to 5,150 sheets of paper

Reduced printer downtime – designed for easy internal access, quick and efficient maintenance

Ability to scan 60 pages/120 images per minute

Internal finisher – compact and space-saving for collating and joining documents, also available with the hole-punching option

Attachable outer booklet finisher – for stapling, hole punching, envelope printing, and a variety of folding options
Interviewed by: Milena Maglovski
Read the story in the new issue of the Energy portal Magazine RESPONSIBLE BUSINESS.