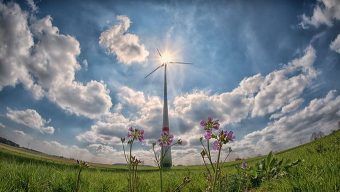 Gamesa has reported a massive jump in installation numbers in India as it continued to dominate the crowded wind energy market.
According to media reports, the Spanish wind turbine manufacturer recently announced that it installed 2,050 megawatts of wind energy capacity in India in FY2016-17 (between April 2016 and March 2017). This is the first time that any turbine manufacturer has been able to achieve the 2,000 megawatts milestone in a financial year.
India added a total of 5,400 megawatts of wind energy capacity; at 2,050 megawatts Gamesa captured an impressive share of 38%. The company has been India's leading turbine manufacturer for the last several years. In FY2014-15, the company commissioned 657 megawatts, while in FY2015-16 this capacity increased to 1,000 megawatts, translating into a 30% share in the Indian market.
The Indian wind energy sector has managed to beat the targeted capacity addition for the last two financial years and is expected to do so in the current financial year as well.
The Chairman of the Indian Wind Turbine Manufacturers Association (IWTMA) recently stated that a record 6,000 megawatts of wind energy capacity is expected to be added in financial year 2017-18 which will be 11% higher than the 5,400 megawatt capacity added in 2016-17, also a record.
While being the largest supplier of wind turbines to the Indian market, Gamesa recently also participated in the first-ever wind energy auction in India. The company placed a bid to set up 250 megawatts of capacity at a tariff of Rs 3.68/kWh (5.7¢/kWh). The company failed to make the cut as its bid was 6.4% higher than the lowest and winning bid.
Source: cleantechnica.com