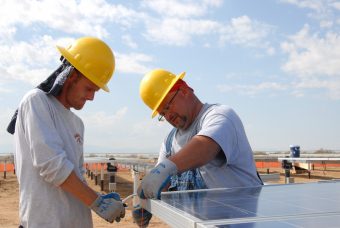 The Green for Growth Fund (GGF) has formed a new partnership with MF Banka in Bosnia and Herzegovina to expand access to green finance for small, and medium enterprises (SMEs). A senior loan of 5 million euros will be on-lent by the bank to businesses that want to implement energy efficiency and resource efficiency measures, as well as small scale renewable energy projects.
MF Banka is part of Mikrofin Group, which has been a GGF partner since 2018. MF Banka plays an important role in serving the lower SME market segment, and with its extensive network and vast experience in financing energy and resource efficiency measures, the bank is well positioned to offer diverse green products to its large client base. This investment will be used predominantly to finance energy efficiency measures in manufacturing, specifically wood processing and food processing, construction, as well as transport.
"We are proud of this new partnership with MF Banka as we believe it will strengthen our outreach amongst SMEs and corporate clients in Bosnia and Herzegovina, while simultaneously advancing our mission to boost energy efficiency and renewable energy across the region", said GGF Chairman Olaf Zymelka.
"We are aware of the impact of energy efficiency on the environment, but we know that the intensity of its implementation directly depends on financial precondition. Thanks to the GGF, which recognized MF Bank as a reliable partner, we will have the opportunity to provide more favorable and affordable 'green' loans for most of our SME clients," said Bojan Luburic, President of Management Board MF Bank.
About the GGF
The Green for Growth Fund invests in measures designed to cut energy use and CO2 emissions, and improve resource efficiency in 19 markets across Southeast Europe, the Caucasus, Ukraine, Moldova, the Middle East and North Africa. The fund provides such financing directly to renewable energy projects, corporates and municipalities or indirectly via selected financial institutions. The GGF's Technical Assistance Facility maximizes the fund's investment impact through support for capacity building at local financial institutions and partners.
The GGF was initiated as a public-private partnership in December 2009 by Germany's KfW Development Bank and the European Investment Bank, with financial support from the European Commission, the German Federal Ministry for Economic Cooperation and Development, the European Bank for Reconstruction and Development, and the Austrian Development Bank (OeEB).
The fund's growing investor base comprises donor agencies, international financial institutions and institutional private investors, including the International Finance Corporation, the Dutch development bank FMO, and the German ethical bank GLS. The GGF is advised by Finance in Motion GmbH. MACS Energy & Water GmbH, Frankfurt am Main acts as the technical advisor.
Source: Green For Growth Fund