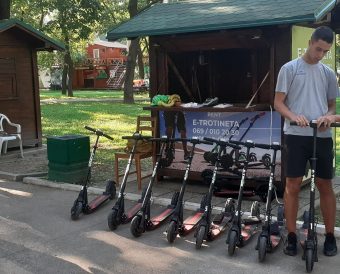 Although the winter is already here, we could still remember summer rides on electric scooters in city streets and nature spots. Now we are waiting for warmer days, long walks and two-wheelers that will get us outside during next spring. Meanwhile you can read our article about last summer and fall in the streets of Belgrade.
September brought the first cold days and some citizens already brought out sweaters and jackets in the light. But, if we can trust meteorologists, October may bring us pleasant Indian summer so that we can put back those warm clothes in the darkness of our wardrobe for a while. We should thank Ada Ciganlija, our salvation from the city crowd, once again by absorbing vitamin D at the beach and wearing out shoe soles in the forest path or wheels of our bicycles, roller-skates and electric scooters on the roads. For everyone who doesn't own a vehicle that suits him, at Belgrade seaside, it has been available for years to rent roller-skates and bicycles, but the electric scooters are new – they are here less than two months.
A new post was opened in July for rental of electric scooters at the beginning of the path on the Sava side. During the last year, electric scooters timidly started conquering streets all around the world. This year the breakthrough was even more aggressive. The number of people riding them multiplied in the capital of Serbia, successfully avoiding traffic jams and construction sites barricades. Due to its affordability, it is estimated that interest in alternative, ecological, fast and comfortable ride to the desired destination will increase. Until you are bold enough to buy an e-scooter for yourself, you have an excellent opportunity to put them on trial at Ada Ciganlija, where you can rent one for an hour or the whole day ride.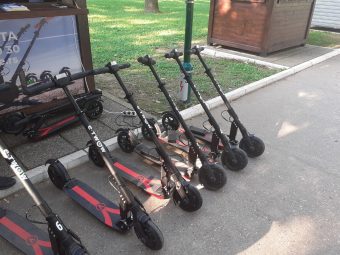 Electric scooters can develop speed up to 35 km/h and the battery can take you about 40 km from the start point without a problem. Maximum payload is 110 kg – which is, you have to admit, impressive for a two-wheeler of ten kilograms.
According to the research results, one-third of the drivers of electrically powered scooters are tourists. When was the last time you enjoyed the beauty of the city you live in from that perspective? Have you ever tried to look through their eyes the plates with the names of crucial politicians in Yugoslavia posted in front of trees in the Park of Friendship or beautiful building of The National Theatre? In what way does a person perceive our city, his simultaneous slowness and rush and taking it in a relaxed manner as an integral piece of city charm and not as an obstacle on the way home after a stressful day at work.
For the next weekend, we suggest you take the role of a curious man living far from Belgrade. Ada Ciganlija could be your starting point. With an electric scooter, the tourist perspective in your city has never been closer, and with the battery reach of 40 kilometers, even Zemun isn't far away. Nacional star company enabled electric scooter rental at this artificial island. You can find them in Novi Beograd, address 12, Urosa Martinovića St (shop number 6) – for rental or purchase.
Prepared by: Jelena Kozbasic
This article was published in the new issue of Energy portal Magazine CLIMATE CHANGE, September – November 2019.