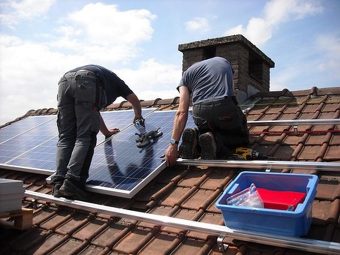 When South Australia Senator Cory Bernardi – committed Conservative and staunch abstainer from drinking "renewable energy Kool-Aid" – confirmed last week he had installed 12kW of rooftop solar at his Adelaide home, he said it was only to stop the lights from going out.
But with his state's retail electricity prices rapidly headed into ludicrous territory of around 40c/kWh, Conservative Cory could be a harbinger of the new normal, where putting panels on the roof is a no-brainer for the average Australian household – even those that don't subscribe to renewables.
Recent data would certainly support this theory. The May report from industry analyst SunWiz shows households and businesses are installing rooftop solar PV at a rate not seen since 2012, at a rate of nearly 100MW a month and a grand total of 5.7GW of rooftop PV installed on a total of 1.7 million households and businesses.
Driving this new solar normal is the seemingly endless rise of grid power prices, watched by an increasingly weary – and well educated – consumer who, like Bernardi, has lost faith in policy-makers to restore any semblance of order.
Over the past week alone, major energy retailers including AGL Energy, Energy Australia and Origin Energy have each announced double-digit electricity price increases in South Australia and New South Wales, starting July 01.
Origin, for example, will raise its tariff for residential customers in South Australia by a further 16.1 per cent, 18 per cent for small businesses.
Considering the levelised cost of generation from a rooftop solar system these days ranges from between 5-10c/kWh, depending on the quality of the panels, and solar tariffs in most states sit somewhere between 8-14c/kWh, it is no wonder people like Bernardi are suddenly buying in.
Even for a working couple, with no battery storage, and with 70 per cent of their solar generation going back to the grid, the payback period for a 5kW solar system could be as short as five years.
Add just a little bit of effort, says Solar Choice's James Martin, perhaps increasing self-consumption to around 45 per cent, and you can get close to four years payback on a 5kW system almost anywhere in the country.
Indeed, Martin illustrated as much only recently, in an article he penned in May comparing return on investment for 3kW and 5kW rooftop solar systems.
At that time, he based the payback periods for SA households – see chart and table below – on retail electricity prices of 34c/kWh, which he says seemed "ridiculous enough". Come July 01, when they near 40c/kWh, the ROI equation looks even better.
And even more importantly, it's an equation people are becoming well aware of.
"We've seen inquiry volumes jump 50 per cent in the last week," Martin told One Step Off The Grid on Tuesday. "There's been a massive increase – mostly residential.
"People are spooked," he added. "We're at a point in this market where people know what solar is for, and people are turning to it to try and combat price rises.
"The more retailers put up prices the more they're going to push people to go solar," he said.
Chris Williams from the NSW-based installer Natural Solar, has noticed a similar spike in consumer interest in rooftop solar and storage.
"Anywhere (in Australia) that there's been an upgrade in bill price of anywhere up to 25 per cent has definitely seen a much higher level of interest," Williams told One Step on Tuesday.
He says inquiries to his company about installing solar and/or battery storage have increased by between 250-300 per cent in the past few days – all of it what he describes as "organic traffic."
"We've also noticed that there is a higher propensity (for people inquiring) to proceed and have a consultation.
"We're talking to a more engaged customer, whose motivation is financial. We're seeing the transition to the early majority, where the standard mum and dad household are looking to make a decision based on economics and proven technology," Williams said.
In Adelaide, local outfit and installer of the Bernardi system, Tindo Solar, is also seeing market momentum build.
"What we have noticed in a very short period of time is a massive increase of hits on our website and of people wanting quotes," Tindo's Glenn Morelli said on Tuesday. And not just from households.
"We had a residential customer ring us up today for his business. So that's just one example," Morelli said.
"We've got leads and appointments booked for the next two or three months. And that's out of character for winter, which is usually a quiet period.
"It's got to the point now where for pretty much any business we can demonstrate a payback of around four years,"
"It's unusual now to get a commercial payback of more than four years," he said.
"We like to put it to customers, what else will you do with your money? Whether you put it in shares, or a cash deposit account, you're going to outstrip that quite easily (by investing in solar).
"And it's fair to assume that the power price increases won't stop here."
It is also fair to assume that the costs of solar, and for that matter of battery storage, will keep going down.
A report from Bloomberg New Energy Finance last week predicted that battery storage capacity would grow in Australia to at least 16GW by 2040, with 15GW installed by households and businesses behind the meter.
BNEF also forecasts that large and small-scale solar will reach 72GW by 2040, half of which will be "behind the meter," flagging a fundamental shift from centralised to distributed generation.
Interestingly, BNEF also warns that this economics-based transformation does not circumvent the need for robust energy and emissions reduction policy in Australia.
"A credible, stable and durable policy regime is essential to achieving and orderly transition, facilitating the most efficient investment and keeping costs for consumers as low as possible."
For South Australia, already well past is target of 50 per cent renewable energy generation, the latest jump in retail power prices means that time for an "orderly transition" is running out. Just ask Cory Bernardi.
Source: cleantechnica.com