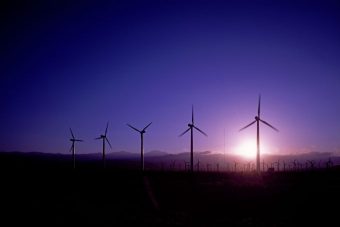 Good monsoon winds and a sharp jump in installed capacity helped India generate record wind energy in the July-September 2017 quarter.
According to data released by the Indian government, wind energy generation in the country jumped 35% in Q2 2017 compared to the preceding quarter. The generation was up 25% compared to Q3 2016. This quarter-on-quarter increase was likely the result of high wind speeds thanks to a good monsoon season this year. The year-on-year jump was the result of a 14% increase in installed capacity between October 2016 and September 2017.
Total wind energy generation in India increased from 15.8 gigawatt-hours in Q2 2017 to 21.3 gigawatt-hours in Q3 2017. The share of wind energy in the total power generation or imported in India on quarterly basis touched a high of 6.4% in Q3 2017, up from previous high of 5.4% in Q3 2016.
Within renewable energy generation, the share of wind energy increased to its second-highest level. The share of wind energy within renewable energy generated in India during Q3 2017 touched 67.9%, compared to 62.2% in Q2 2017 and 61.8% in Q3 2016.
In July of 2017, the share of wind energy in India's total power generation and import touched an all-time high of 8.9%, surpassing the previous high of 6.7% in July 2016. Wind energy's share within the renewable energy generated in that month was also at an all-time high of 76.2%. The absolute wind energy generation in July 2017 also touched an all-time high of 9.8 gigawatt-hours. India can be expected to see more than 10 gigawatt-hours of wind energy generation in June or July next year.
However, the rise in generation next year may not be as high as it is this year. Wind energy capacity addition has taken a massive hit this year. Project developers are no longer being allowed to add projects under the feed-in tariff scheme and are required to set up projects through competitive auctions. This will significantly impact the capacity addition.
Source: cleantechnica.com