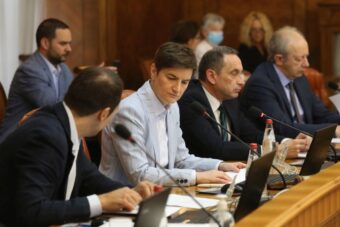 At a session, the government of the Republic of Serbia passed an amended decision on temporary restriction of exports of basic agri-food products important to the population.
Given that Serbia, like many other countries, is facing increasing challenges due to pollution and climate change, members of the Government decided to form an Interdepartmental Working Group for Public Finance Reform to achieve the goals of the Green Agenda.
The establishment of the Working Group is a step towards achieving greener, more efficient and less carbon-intensive development.
At the session, consent was given to the Development Programme – a green programme of cooperation between science and economy, which is one of the programmes of public interest for the Republic of Serbia.
The programme will be implemented through scientific research projects and will aim at practical support of cooperation between science and business sector, based on the use of available scientific potentials and financing of research projects, as well as application of their results to further development of society and economy as a whole.
This support will play a significant role in solving vital problems of society and introducing young researchers to scientific research, as well as strengthening the professional capacity of scientific research institutions and creating new project teams.
As a programme of public interest, the "Prism" Programme of the Science Fund of the Republic of Serbia was adopted, which determines the conditions for announcing and the procedure for conducting a public call for scientific research projects in various fields.
It is necessary that the submitted projects are based on excellent ideas that in the future can have a significant impact on the development of science and research and the economy and society as a whole, development of research of strategic importance for agriculture, food production and environmental protection, experimental, practical and clinical research, social sciences and humanities in Serbia and raising the level of science in artificial intelligence.
The government has also set up a Commission for the Regulatory Framework for Improving the Employment of Roma in the Public Sector, a national minority recognised as a vulnerable and hard-to-employ population group.
The session also adopted the Strategic Master Plan for the Development of Tourism in Belgrade for the area of the archaeological site Belo brdo, Vinca.
At the suggestion of the Ministry of Culture and Information, the Government decided to declare the Church of the Ascension of the Lord in Drenovac, the Holy Trinity in Brdarica and the Holy Great Martyr George in Macvanski Pricinovic as cultural monuments, having in mind their cultural and historical significance.
Energy portal