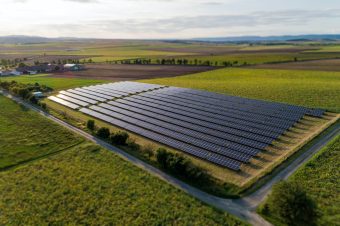 The innovative planning tool K2 Base enables fast, safe and accurate planning of PV projects. In just five steps, you can determine the optimal design of your K2 mounting system and the configuration of your PV project for pitched and flat roofs. And all of this is free of charge! No wonder K2 Base has become one of the most popular planning tools in the industry.
The free planning software K2 Base is now also intelligent. In the new Obstacle Detection function, artificial intelligence is used to recognise and automatically add elements such as chimneys, skylights or other obstacles once they have been drawn in. This eliminates the need for the planner to manually draw in various obstacles. This saves time. 
Planning is also simplified by optimised thermal separations, the definition of which is automatically available to the planner in K2 Base. From now on, individual module fields are distributed even more evenly and the weight to be ballasted is thus optimally distributed.
Interface K2+ to PV*SOL premium
With K2+, the planning tool K2 Base now also enables the direct transfer of project data from and to PV*SOL premium from Valentin Software. In future, these values will therefore no longer have to be entered several times during the photovoltaic planning process. This saves time and money and avoids the risk of values not being entered or updated correctly. With the addition of PV*SOL premium, K2 Systems is expanding the existing interfaces to SolarEdge, SMA, Fronius, Kostal, GoodWe and archelios™ Pro with another important module. This facilitates the planning of photovoltaic systems with the K2 mounting systems.
Optimal design on hipped roofs
The free K2 Base planning software can now be used not only for flat, gable and monopitch roofs. In future, photovoltaic systems on hipped roofs can also be planned in offset and thus space-optimised placement, including obstacle recesses and shadow casting views. K2 Base thus expands the range of installations that can be planned with the K2 software. A hipped roof usually has two trapezoidal and two triangular roof surfaces – i.e. four potential substrates for the photovoltaic system. However, the pointed roof shapes limit the usable area. For a particularly high yield, it is therefore important to arrange the modules in the most space-saving way possible. This is possible with K2 Base.
Source: K2