Farmers are 'up for radical thought' following bad harvests due to extreme weather, NFU says.
 From low-emission cows to robotic soil management, the farming industry will have to explore new approaches in the wake of a UN warning that the world needs to cut meat consumption or face worsening climate chaos.
That was the message from Guy Smith, vice-president of the National Farmers' Union (NFU), this week as policymakers began to discuss how Britain can address the challenges posed by the recent global warming report by the UN's Intergovernmental Panel on Climate Change (IPCC).
Farming and land use are set to move to a more central position in the climate debate in the wake of that report, which urged countries to widen their emissions-cutting efforts beyond the energy industry to agriculture and transport.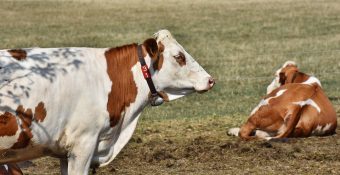 "If consumers want to reduce red meat consumption, farmers will respond accordingly," Smith told a meeting of politicians and climate experts in parliament on Wednesday, noting that farmers could diversify into other stock and use technology to reduce the carbon footprint of the agricultural sector.
Among the possible tech fixes he mentioned were greater uses of satellites and robotics to increase the amount of carbon-absorbing organic matter in the soil and breeding new livestock that emit less methane.
Cow farts are a major source of greenhouse gas, but researchers – who collect the gases in bags fitted to cows – have found there is considerable natural variation from animal to animal. If the low-emission cows could be bred with each other, this could bring down these emissions, they say. Researchers in other countries are also looking at changing feed to make cattle less gaseous.
British agriculture, which already faces dramatic change as a result of Brexit, is likely to come under greater scrutiny next year when both the IPCC and the UK's Climate Change Commission (CCC) produce reports on the role of land use in reduce emissions. This touches on several politically fraught issues, including whether to use land for carbon-sink forests, food-producing farms, housing or industry.
Smith said he was opposed to any reduction in the productive land of British agriculture. He warned that cuts here could mean an expansion in Argentina or Brazil, where crops and beef are produced in far more environmentally destructive conditions and shipping leads to a much higher carbon footprint. Better, he said, to reduce waste in farms, processing, supermarkets and home.
He was supported in this by Ann Jones, a Cumbrian farmer and vice-chair of the National Federation of Women's Institutes who also opposed changes in tax policy that might accelerate the drive away from meat. "I'd be concerned if we tax red meat," she said. "It's food waste that we should be tackling."
Climate scientists said action on meat was important. "The clear message from the IPCC is that diet matters," said Prof Jim Skea, who chaired one of the working groups on the new UN report. "If we eat healthy meat, we'll live longer and by the way reduce our carbon footprint."
In light of the IPCC report, Baroness Brown, a member of the CCC, said her group is likely to advise the government to step up its efforts to meet current climate targets, which are currently off course, and to add "an element of more ambition when it is formally asked for policy recommendations.
These limitations were criticised by the Green party MP Caroline Lucas. "It's not good enough for the government to attempt to simply add a green tinge to business as usual," she said.
"This week's IPCC report couldn't have been clearer: we need an urgent and complete overhaul of our economic system to avoid disaster – and to create a fairer, healthier, safer society."
Source: The Guardian