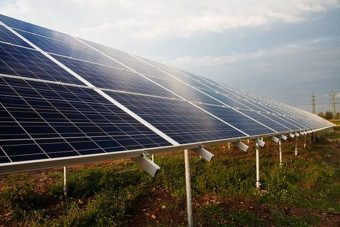 Kentucky, like most of the Appalachian region, has been in economic distress since the bust of the coal mining industry. But, new hope for jobs and the ravaged environment may come in the form of the state's largest solar farm.
The company spearheading the initiative, Berkeley Energy Group, used to be a coal mining company and still owns thousands of acres of land in the area, including the abandoned mountaintop removal site in Pike County, Kentucky, just outside of Pikeville in the heart of coal country. Berkeley Energy is working with EDF Renewable Energy and former Democratic state Auditor Adam Edelen to build a 50-100 megawatt farm right on top of the old mine. The project was announced on Tuesday.
"This is really a history-making project for the region," said Ryan Johns, an executive with Berkeley Energy Group.
"Bringing together major players in both coal and renewable energy to build a solar farm on a mountaintop removal site, creating opportunity for out-of-work miners, is a once-in-a-lifetime project," Edelen told the Herald-Leader.
Coal production has drastically dropped over the last few years since the boom of natural gas and lower installation costs for renewables. According to Kentucky's Energy and Environment Cabinet, in 2016 alone, coal production in the region, including Pike County, dropped by 40 percent from 2015, and the number of coal jobs in the county decreased by 30 percent.
"We have the opportunity to combine the strengths of both companies to bring jobs and economic development to Appalachia," Doug Copeland, EDF development manager, said.
Though the developers aren't sure how many jobs would be supplied by the solar farm, the project would be a massive undertaking and several hundred acres would be used to operate the facility.
Pike County is in eastern Kentucky, which doesn't get quite as much annual sunlight as western parts of the state. But, building it in this specific location would help the developers work with the electric grid supplied by PJM, an electric company that works with homeowners to allocate renewable energy resources.
But, before they can establish anything with PJM, the developers must complete geological and energy studies to measure the potential for solar on the property. EDF said this could take until the end of the year. But, Johns said, "if it can be done, we'll get it done."
Source: ecowatch.com