German carmaker Porsche announced that buyers of its new all-electric Taycan model will get three years of free charging at stations across the United States.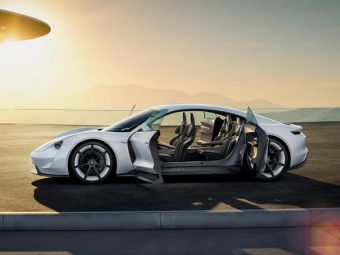 The deal is part of a tie-up with Electrify America which operates almost 500 highway charging stations spread across the U.S. Each Taycan owner will now receive three years of unlimited charges of up to 30-minutes at each use.
Porsche has said its battery technology used in the Taycan car will be able to absorb charging rates of up to 350 kilowatts, almost three times greater than the current crop of Tesla batteries.
It said in a statement Monday that Porsche drivers using Electrify America's fast charging points, will become the fastest at recharging across today's car market, and a quick charge of 4 minutes would allow drivers to add 60 miles of range.
President and CEO of Porsche Cars North America Klaus Zellmer said that Electrify America's agreement with Porsche will provide a national infrastructure of fast charging that "frees Taycan owners from range anxiety."
The news release also unveiled Porsche-designed home chargers, noting that 95 percent of charging occurs at home or work. All 191 U.S. dealers of Porsche cars will also install fast-charging points.
Porsche confirmed to CNBC last week it plans to double its production plan on the electric car it hasn't even released yet.
The German carmaker known for its sports cars and racing heritage said stronger-than-expected demand has led it to boost production on the Taycan from 20,000 to 40,000 units.
There is no official sticker price for the Porsche Taycan but it was reported in December that the car will come in three variants, ranging from $90,000 to $140,000.
That places Porsche's new offering squarely in the same pricing category of Tesla's more expensive models.
The Taycan will reportedly be unveiled at the 2019 Frankfurt Motor Show in September with showrooms receiving the vehicle by early 2020.
Source: CNBC