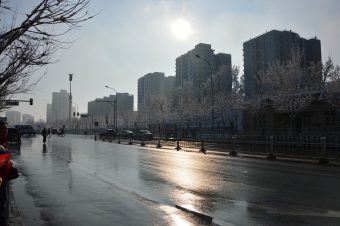 China's war on smog has stepped up another gear with reports suggesting Beijing is planning to cut coal use by a further 30 per cent across the capital this year.
The official Xinhua news agency reported over the weekend that the city's mayor, Cai Qi, is to launch a new crackdown on coal use in a bid to tackle the crippling smog that has afflicted the capital in recent years.
"We will try to basically realise zero coal use in six major districts and in Beijing's southern plain areas this year," the mayor was quoted as saying.
He added that the new "extraordinary" measures would slash coal use in the city to less than seven million tonnes, well below the original target for 2017 of 10 million tonnes.
Even the original target would have required the shuttering of some coal plants, as the city looks to build on a trend that has seen coal use fall sharply from around 22 million tonnes in 2013.
Cai also said city authorities would take 300,000 older vehicles off the road this year to be replaced by cleaner alternatives.
The announcement is the latest in a series of blows to the global coal industry, which has already seen China's slowing economy, coupled with investment in renewables and energy efficiency, lead to a peaking in coal demand from the Asian superpower far earlier than had been anticipated.
Last week a major new study from the Carbon Tracker NGO predicted global coal and oil demand could peak as early as 2020 as the switch to solar power and electric vehicles gathers pace.
The move also follows a raft of anti-smog measures across China in the past 12 months, including tough new regulations on factories, power plants, and vehicles, the shelving of plans for new coal plants, and confirmation of a new $361bn clean energy investment programme.
Source: businessgreen.com