In a year that saw record-breaking heat waves, record-breaking hurricanes and record-breaking wildfires, it's hard to imagine how the future could look any more like a disaster movie than the present. But that is exactly what researchers from the University of Hawaii at Mānoa have predicted in a study published in Nature Climate Change Monday.
The results describe a scenario "like a terror movie that is real," study lead author and University of Hawaii associate geography Prof. Camilo Mora told The New York Times.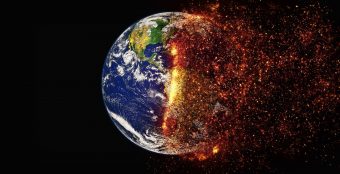 The researchers reviewed more than 3,000 papers to assess how climate change is predicted to increase various extreme weather events and found that, by 2100, some especially vulnerable tropical countries could face as many as six such crises at once.
"The evidence of climate change impacting humanity is abundant, loud and clear," study co-author and University of Hawaii at Mānoa Assistant Prof. Daniele Spirandelli said in a press release. "Clearly, the outstanding question is—how many wake up calls will it take to wake up?"
Usually, climate scientists focus on one climate-related hazard to study at a time, such as flood or drought. But this approach can miss the fact that climate-related dangers can build on each other. For example, global warming evaporates soil moisture in dry places, leading to droughts, heat waves and wildfires. In wet places, higher temperatures increase rain and flooding. As the oceans warm, water evaporates faster off the surface, causing wetter hurricanes with stronger wind speeds, with storm surges made worse by sea level rise.
"Greenhouse gas emissions pose a broad threat to humanity by simultaneously intensifying many hazards that have proven harmful in the past," Mora said in the press release."Further, we predict that, by 2100, the number of hazards occurring concurrently will increase, making it even more difficult for people to cope."
The researchers created an app so that you can see whether your home might be hit with multiple hazards if we fail to reduce greenhouse gas emissions by century's end. New York, for example, will face four climate hazards by 2100 in a business as usual emissions scenario, including sea level rise and extreme rainfall. But the hardest hit areas will be the tropics. The Atlantic Coast of South and Central America would be one of the regions that could be hit by six crises at once.
The paper also supports the idea that climate change will impact the rich and poor differently.
"The largest losses of human life during extreme climatic events occurred in developing nations, whereas developed nations commonly face a high economic burden of damages and requirements for adaptation," the study authors wrote, as The New York Times reported.
Source: Eco Watch