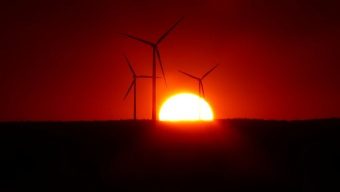 This year is set to be the "greenest ever" for the UK, according to data provided by the National Grid.
Over the course of 2017, 13 different renewable energy records have been broken.
"It's been an exciting year managing the many 'network firsts'," said Duncan Burt, director of the system operator at National Grid.
These "firsts" include the first full day since the Industrial Revolution without coal power, an achievement that head of energy at Greenpeace Hannah Martin said would have been "unimaginable" a decade ago.
Other achievements include the most electricity produced from solar power at any one moment, and the most wind power produced in a day.
Britain's power system is the fourth cleanest in Europe and the seventh cleanest in the world.
It is still lagging behind Germany, which has invested extensively in renewable energy and actually paid consumers to use energy over the Christmas period due to supply outstripping demand.
However, public support for green energy is at an all-time high in the UK, and WWF predicted 2017 will be the "greenest year ever" in light of its broken energy records.
"We have never been cleaner or greener – and we are on course for an even better year in 2018," said Gareth Redmond-King, head of energy and climate at WWF.
"This is the success of supporting renewables in electricity," he said.
"The Government has subsidised onshore wind, offshore wind, solar, hydro, the lot, and that has led to the cost of it falling, we have built more and now a third of our electricity comes from renewables."
In partnership with WWF and Environmental Defence Fund Europe, National Grid has been working to forecast the carbon intensity of electricity.
Mr Burt said 2017 represented "a new era of grid operation".
"We now have significant volumes of renewable energy on the system which poses an exciting challenge for us in ensuring the supply and demand is matched second by second," he said.
"As this trend continues, our ability to forecast these patterns is becoming more and more important. We have an expert team of forecasters who monitor a range of data, to forecast just how much electricity will be needed over a set period."
Experts at the National Grid work with industry to ensure they are equipped to deal with the changing energy landscape, according to Mr Burt.
"Climate change is wreaking havoc on our nature and wildlife, but we are at last facing up to the challenge, turning our backs on polluting fossil fuels and embracing a new, clean future," said Mr Redmond-King.
However, he noted the importance of strong, continued Government action to drive this move towards greener energy.
"This is a success in terms of power; we haven't done so well in relation to cutting emissions in our homes and vehicles. That's where we need more concerted action," he said.
The Government set out its clean energy strategy in October, which included over 50 measures to improve energy efficiency and clean power.
However, Green Party co-leader Caroline Lucas described the plan as a "blueprint for underachievement", and critics suggested it did not do enough to meet the UK's emissions targets.
A commitment to end the sale of petrol and diesel vehicles by 2040 does not go far enough, according to WWF, and should be brought forward to 2030.
Mr Redmond-King said while the strategy included a commitment to "decarbonise" our homes, it did not set out how this would be achieved.
"It's a big job, but it has huge impacts, and we really need to see the detail of how the Government is going to commit to do that," he said.
Source: independent.co.uk