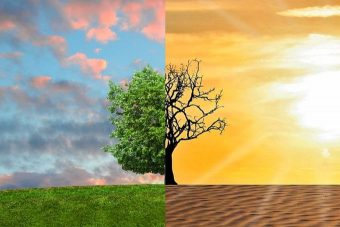 At the 44th UNESCO World Heritage Committee meeting, the World Heritage Convention's governing body and its States Parties adopted a new climate policy—the first time they have done so in over a decade.
States Parties will have until September to edit the policy, which will then be submitted to the General Assembly of the World Heritage Convention, later this year. Also at the meeting, the Committee failed to heed recommendations to place Australia's Great Barrier Reef on the "in danger" list due to degradation resulting from climate change.
Below is a statement by Adam Markham, deputy director of the Climate and Energy Program at the Union of Concerned Scientists. Markham is a co-author of the 2014 UCS report "National Landmarks at Risk: How Rising Seas, Floods, and Wildfires are Threating the United States' Most Cherished Historic Sites" and lead author of the 2016 report "World Heritage and Tourism in a Changing Climate," which was published in partnership with UNESCO and the United Nations Environmental Program.
"Climate change is the fastest growing threat to World Heritage sites globally and no site is completely safe. UNESCO's new climate policy will heed the latest science and will encourage risk assessments for all sites and actions to protect them from climate impacts. The new policy stresses the importance of countries meeting their commitments under the U.N.'s Paris Agreement by decreasing global warming emissions to a level that will not damage World Heritage sites, as well as providing new funding to help sites adapt to climate impacts that are unavoidable.
It also proposes that newly nominated sites undergo a similar process. Some site managers, including those in Scotland, Australia, Germany, Nigeria, and Tanzania, have already started this work through the implementation of the Climate Vulnerability Index—a methodology that could be utilized to rapidly assess climate risks to World Heritage sites in other member nations.
"Unfortunately, with Australia's Great Barrier Reef, we already know climate change poses an existential threat to the health of this complex and diverse ecosystem. Warming waters driven by the burning of fossil fuels have led to multiple severe coral bleaching events in recent years, causing irreversible damage to some parts of the reef already. Despite that, the Committee placed politics over science by opting to keep the site off the in danger list after succumbing to an aggressive PR and lobbying campaign waged by the Australian government.
"From our triumphs to our failures, our traditions to our innovations, World Heritage sites tell the story of humankind. The loss of any one site, let alone many, to the growing climate crisis would be nothing short of catastrophic. Many World Heritage sites have already been damaged by climate change and many more are at risk. By ramping up protection efforts, countries can help stave off devastating changes to these irreplaceable and iconic sites around the world."
Source: Union of Concerned Scientists