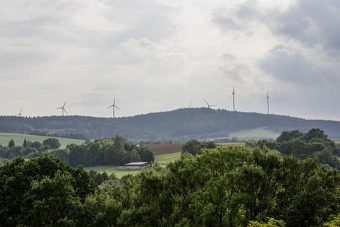 New figures published by the American Wind Energy Association show that the US wind energy industry added jobs at more than 9 times faster than the overall US economy in 2016, reaching 102,500 jobs in all, helping to install over 8 gigawatts of new wind power and helping investment reach more than $14 billion.
These are the primary findings from the American Wind Energy Association's (AWEA) 2016 U.S. Wind Industry Annual Market Report, released Wednesday at the Minnesota State Capitol.
"Thanks to another year of strong, steady growth, wind increasingly powers the US economy, adding nearly 15,000 jobs just last year and bringing total wind industry employment to over 102,000 jobs across all 50 states," said Tom Kiernan, CEO of AWEA, speaking in St. Paul. "By building new wind farms we are investing in rural and Rust Belt America. And last year, wind energy became America's number one source of renewable generating capacity, further advancing U.S. energy security."
The US wind energy industry has helped wind energy grow to account for 5.5% of the country's share of electricity generation, with enough wind to power approximately 24 million US homes. In fact, wind energy has now surpassed conventional hydropower in 2016 to become the country's largest renewable energy resource.
Wind energy jobs aren't expected to decrease, either — despite the arrival in the White House of Donald Trump. According to the AWEA, by the end of President Trump's four-year term, American wind power could support more than 248,000 wind-related jobs. Further, wind power will create $85 billion in economic activity between now and 2020. As it currently stands, with more than 99% of wind farms in the United States built in rural communities, the industry is currently paying more than $245 million annually in land-lease payments to local landowners, helping to benefit those rural communities.
The report, released in Minnesota, also highlighted the benefit that wind energy is having in the Upper Midwest, where 26% of Minnesota, Iowa, and the Dakotas' energy production is being supplied by wind, supporting more than 18,000 jobs and providing $28 billion in private investment into the region.
"In the Upper Midwest we've seen the emergence of a wind-powered economy that benefits from low cost energy, good job prospects and greater energy security," said Kiernan. "These states' pioneering spirit has shown America that we can achieve the Department of Energy's Wind Vision to reach 20 percent wind energy by 2030."
And as we have seen of late, renewable energy continues to garner more and more bipartisan support — despite the antics of those currently inhabiting the White House. To coincide with the release of the report, Minnesota Republican Representative Tom Emmer penned a letter of support (PDF) in which he said:
"Wind power is a critical component of an all-of-the-above energy approach focused on reducing consumer costs, furthering advances in renewable technologies, and moving our country closer to total energy independence. I will continue to support policies that further a comprehensive approach to improve our country's energy outlook and ensure that American wind production remains a key component of that strategy."
All in all, more than 25,000 workers are currently employed at more than 500 US factories building parts for wind turbines — with many of those factories being located in the much needed region of the Rust Belt: Ohio has 62 wind factories, Wisconsin and Pennsylvania both have 26 factories each, and Michigan has 25.
Source: cleantechnica.com