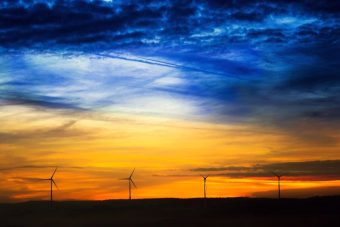 Two big names have announced their commitments to using 100% renewable electricity across their operations, digital payments giant Visa and Japan's largest homebuilder Daiwa House Industry, both of which have also committed to 100% renewable electricity initiative RE100.
The Climate Group, which in partnership with CDP (formerly the Carbon Disclosure Project) created the RE100 initiative, announced this week that both Visa and Daiwa House Industry had made separate commitments to transfer to 100% renewable energy, however, the commitments themselves differ greatly.
Announced on Wednesday during the Climate Leadership Conference in Denver, Colorado, Visa committed to using 100% renewable electricity across all its global operations by the end of 2019. It also announced that it was joining RE100 and the Rocky Mountain Institute's Business Renewables Center and becoming a signatory to the Renewable Energy Buyers' Principles, led by World Wildlife Fund.
"We are proud to play a role in driving the adoption of renewable energy," said Al Kelly, Chief Executive Officer, Visa Inc. "For Visa, this announcement is an example of our longstanding commitment to operate as a responsible, ethical and sustainable company, while fostering economic growth."
Visa's commitment reflects intense ambition, considering that Visa only acquires 35% of its global electricity consumption from renewable energy sources at the moment. The company is already making headway with a range of various smart solutions being implemented to reduce its energy consumption, ranging from efficient lighting and controls through to improvements to its data center infrastructure. But Visa's efforts are also focused on increasing its clean energy and sustainable leadership.
"Visa's commitment to renewable electricity does not end at our front door," said Douglas Sabo, vice president and head of Corporate Responsibility and Philanthropy, Visa. "We aim to support broader industry progress in this area by joining the Business Renewables Center as well as signing on to the Renewable Energy Buyers' Principles."
Announced a day later, The Climate Group revealed that Daiwa House Industry had committed to source 100% of its electricity from renewable energy sources and double its energy productivity by 2040, leading to it also joining both RE100 and EP100. The move marks the first Japanese company to join EP100 and the first construction company to join both campaigns at the same time.
"Congratulations to Daiwa House – today's announcement is a double first for Japan and the entire construction sector," said Mike Peirce, Corporate Partnerships Director, The Climate Group.
"Daiwa House has put cleaner, smarter energy at the heart of its business strategy, knowing it will bring down emissions and boost the bottom line. By committing to EP100 and RE100, and investing in renewable energy generation, storage and innovative technologies, the company is demonstrating tangible leadership to its customers and peers."
Source: cleantechnica.com