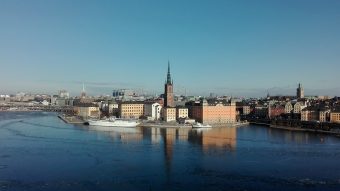 On 2 and 3 June 2022, world leaders and representatives from government, business, international organizations, civil society and youth will gather in Sweden for Stockholm+50 – an international meeting to drive action towards a healthy planet for the prosperity of all.
The event comes at a crucial time as the Earth is in emergency mode, and urgent action is needed to address the triple planetary crisis of climate change, nature and biodiversity loss, and pollution and waste.
What is the triple planetary crisis?
The triple planetary crisis consists of three interlinked issues threatening human and environmental health: climate change, nature and biodiversity loss, and pollution and waste.
The climate crisis is causing more frequent extreme weather events such as storms and droughts, which worsen food and water scarcity. Research shows that to stave off a climate catastrophe, the world must halve annual greenhouse gas emissions by 2030 to reach net-zero by 2050.
Human activities have modified 77 per cent of land (excluding Antarctica) and 87 per cent of the ocean. More than 2 billion hectares of land is degraded due to overuse or mismanagement. and one million species face extinction.
Air pollution, the greatest environmental threat to public health globally, accounts for an estimated 7 million premature deaths every year. 11 million metric tons of plastic waste enter our ocean every year. At the same time, we produce 50 million tons of e-waste.
Source: UNEP