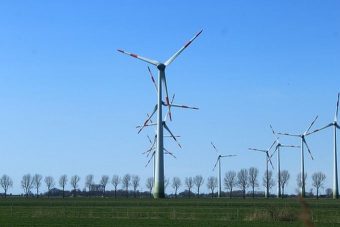 The Oklahoman recently took a look at what the Sooner State's growing wind industry has meant for rural school districts.
Its findings: Wind power has made a big difference.
Oklahoma has faced steep cuts to its state education budget in recent years, but wind payments have helped bridge the gap for many small-town districts.
"We would probably be right there screaming with everyone else about the budget if it wasn't for those (turbines)," said Rob Friesen, superintendent of Okarche Public Schools. The Okarche school system recently added a new gym, built a new elementary school and art center, and a constructed an agricultural and technology building.
"It increases the amount of money you can go out and bond," Friesen said. "Without it, we wouldn't be doing all these projects," Friesen said. "Without it, we would have to pick just one of these projects."
Meanwhile, Robert Trammell, superintendent of Cheyenne Public schools, said wind revenue makes up 10 percent of his district's budget, and wind development helped the Minco public school system build a new high school.
In rural districts short on resources, wind farm revenue can clearly make a huge difference. In fact, researchers from Oklahoma State University recently found wind farms would pay in-state schools more than a billion dollars during the course of their lifetimes.
Source: ecowatch.com