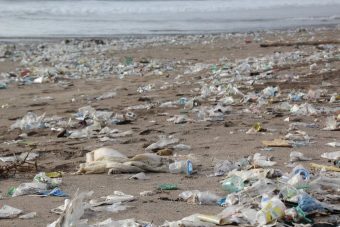 The world's first plastic-free supermarket aisle has opened its doors in Amsterdam today, in what could prove a major advance in the fight against plastic waste pollution.
Shoppers visiting Dutch supermarket chain Ekoplaza's new store will be able to buy more than 700 products from the plastic-free aisle, including meat, sauces, rice, dairy, chocolate, and fruit and vegetables.
Instead of plastic packaging, goods are contained in glass, metal, cardboard, and new bio-degradeable plastic packaging, with each item bearing a 'Plastic Free Mark'.
Ekoplaza said the aisle was the first of 74 planned for its stores in the Netherlands this year.
It is a move that steals a march on UK supermarkets, which are under pressure from the UK government to deliver plastic-free aisles for British shoppers following a promise made by Prime Minister Theresa May at the launch of the 25 Year Environment Plan earlier this year.
Campaigners claim the aisle, created in collaboration with Dutch NGO A Plastic Planet, marks a turning point for plastic pollution.
"The introduction of the world's first Plastic Free Aisle represents a landmark moment for the global fight against plastic pollution," A Plastic Planet co-founder Sian Sutherland said. "For decades shoppers have been sold the lie that we can't live without plastic in food and drink. A Plastic Free Aisle dispels all that. Finally we can see a future where the public have a choice about whether to buy plastic or plastic free."
Ekoplaza chief executive Erik Does said the aisle will act as a testing ground for new forms of packaging. "We know that our customers are sick to death of products laden in layer after layer of thick plastic packaging," he said. "Plastic Free Aisles are a really innovative way of testing the compostable biomaterials that offer a more environmentally friendly alternative to plastic packaging."
But some environmentalists remain concerned replacing plastic film with a biodegradeable alternative may not wholly solve the problem of plastic pollution.
Many biodegradeable plastics depend on exposure to UV light to break down – if they get trapped in landfill or float below the surface of water they do not dissolve. There are also fears they could contaminate recycling streams for standard plastics if they are not carefully sorted.
Meanwhile, many retail experts point out that some plastic packaging helps food last much longer, cutting down on food waste – a major source of carbon emissions and wasted energy.
And some experts are concerned that any increase in demand for biomass-based packaging could bring with it significant environmental challenges through growing land use pressure.
Nevertheless, manufacturers and retailers are facing increasing calls from consumers, campaign groups and politicians to cut down on unnecessary plastic waste following shocking images of marine life tangled in the plastic waste blighting our oceans, screened in last year's hit BBC documentary Blue Planet II.
Along with a push for plastic-free supermarket aisles, the UK government is also considering new proposals for deposit return schemes, levies on coffee cups, and wider plastic taxes in a bid to cut plastic waste.
Source: businessgreen.com