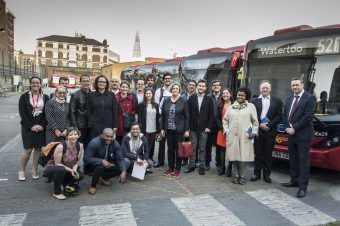 Travelling up to ten times further than the average passenger vehicle, urban buses are a significant source of pollution, impacting local air quality and global carbon emissions. By 2030, urban bus activity is set to grow nearly 50 percent from today's levels. In addition, buses used for public transit are not replaced as frequently as passenger vehicles, meaning those purchased today can have environmental and health impacts that persist for more than a decade.
Replacing diesel and compressed natural gas (CNG) buses with low emission buses, such as battery electric and hybrid, can generate significant environmental, health and economic benefits in our cities. To date, 27 cities have signed onto C40's Clean Bus Declaration committing to switching more than 45,000 buses in their fleets to low emission buses, saving an estimated 1 million tons of GHG emissions per year. If each of these 27 cities switched their entire fleet to low emission buses, the savings could reach 2.8 million tons of GHG emissions each year. This is the equivalent of taking around 590,000 cars off the road.
For cities to achieve their clean bus goals, we must find new business models to support investment in this innovative but more expensive technology. Clean bus costs vary by city and publicly-available data is limited, but estimates suggest electric buses cost at least 50% more than traditional diesel models, and significantly more for some cities. The price of electric buses and the associated charging infrastructure is a common barrier to cities adopting these buses at scale. C40 and the Greater London Authority brought together 12 leading cities for the C40 Clean Bus Finance Academy to collaborate on possible solutions to overcome this barrier and others in transitioning to electric bus fleets. This event—the first of its kind in a series—forms part of the Financing Sustainable Cities Initiative, a partnership between C40 and the WRI Ross Center for Sustainable Cities, funded by the City Foundation.
Senior city finance and transport officials came together at the C40 Clean Bus Finance Academy to provide peer-to-peer advice based on their experiences with electric buses. The three-day Academy involved candid lesson sharing and collaboration between the cities of Auckland, Buenos Aires, Cape Town, Durban, London, Los Angeles, Mexico City, Oslo, Paris, Santiago de Chile, Seattle and Tshwane. The cities also worked with invited technical experts to explore new funding, finance and procurement options to create new business models for electric buses.
– Many jurisdictions around the world are thinking of moving to an electric bus fleet. But with battery storage cost falling and challenges around the large investment in dedicated infrastructure, the default position is to wait and see. The clean bus academy was the opportunity to shift from thinking to action. In sharing not just what other cities were doing, but also more detailed insights into charging, depots, variability of range and other logistics, the academy has helped provide a catalyst for action and the next level of planning to enable it to happen. – Richard Morris, Chief Financial Officer, Auckland Transport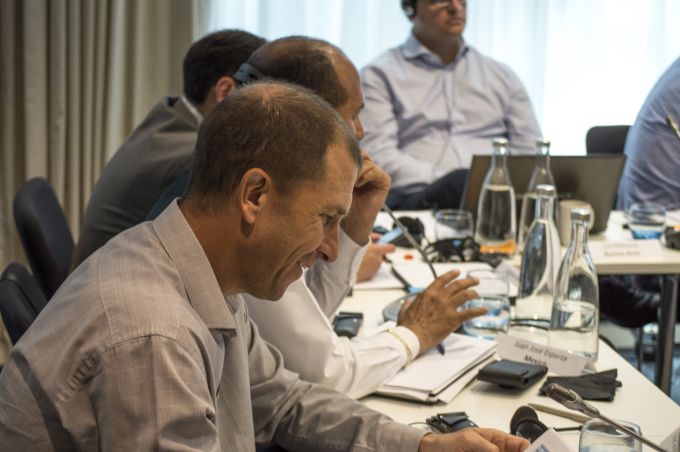 The cities heard from manufacturers, operators, finance specialists and technology experts in a space designed for close collaboration and open information sharing. Feedback from city delegates highlighted that they also valued collaborating with their finance and transport colleagues from their own cities, as well as peers in equivalent roles in other cities from around the world. All twelve cities left having created new Finance Action Plans, outlining next steps primarily under three common themes:
Measuring the costs and benefits of different clean bus technologies
Collective actions to reduce the high upfront costs of electric buses
Exploring innovative procurement, financing and funding options
Measuring the costs and benefits of different clean bus technologies
The business case improves for clean buses when the operational costs, as well as the environmental, health and economic benefits are also taken into account in the total cost of ownership. Electric buses generally have lower operating costs than traditional buses due to savings from reduced fuel consumption and lower maintenance costs. Some of the delegates highlighted the operational cost savings as a key motivator for adopting electric buses. This was also highlighted during a site visit to the Waterloo bus depot where the Director of Engineering for Go Ahead shared his perspective as an electric bus operator. He shared their positive experience with electric buses, particularly in terms of lower operating costs. During their visit delegates saw some of Go Ahead's fleet of 51 electric buses returning from the ir shift to plug-in and charge overnight, a clear demonstration that electric vehicles are not just a technology of the future but a technology of the here and now.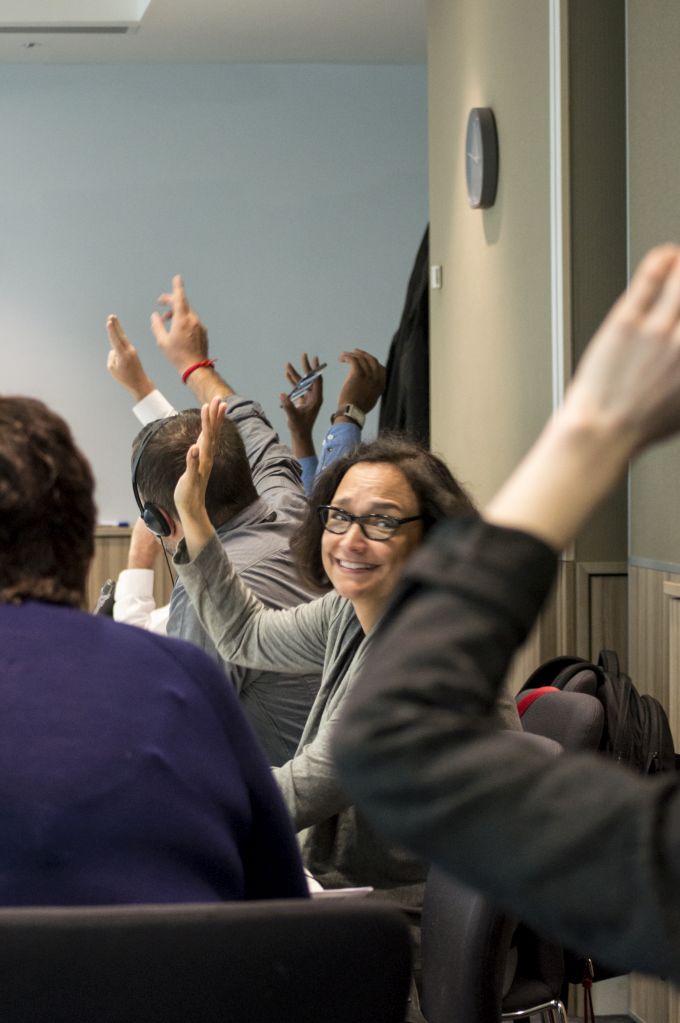 Collective actions to reduce the high upfront costs of electric buses
While total cost of ownership models can help to make the business case, for some cities the higher upfront costs of electric buses and their charging infrastructure is a persistent barrier to adoption. During the Academy, cities explored whether collective actions such as joint procurement of common elements of electric buses, such as batteries or chassis, or an update to C40's Clean Bus Declaration could demonstrate strong demand to the market and bring down the upfront costs. Since launching the Declaration, London has seen a reduction of more than 10% in the price of single deck electric buses, which London attributes to the signal cities jointly sent to the market through the Declaration. C40 will continue to work with its member cities and partners to explore new collective actions to help address this cost barrier.
Exploring innovative procurement, financing and funding options
Another challenge for cities that do not own their own vehicles is how to incentivise a private operator to take the risk of investing in a new technology. A session with manufacturers inspired a discussion on business models and how cities can work to develop new contracting approaches that will reduce the costs and risk of adopting new technology, such as battery leasing or shared costs of infrastructure. Just as cities need to provide a signal to the market that there is demand for their product, manufacturers need to provide a signal to cities that they are working to reduce costs, mitigate technology risks, and improve charging technology standardisation.
C40 and its partners will be working together with technical experts to support these cities in implementing their Finance Action Plans over the next 12 months and bringing together these cities and others through webinars and teleconferences to continue the valuable good practice exchange. At the request of the delegates, C40 will explore an update to the Clean Bus Declaration and the creation of a clean bus information repository for cities, transit agencies and operators to share information on their procurement, trials and financing of clean buses.
(C40)