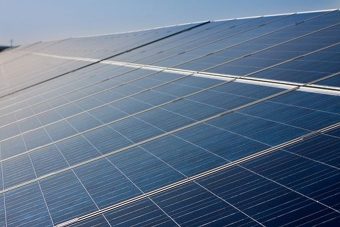 Ontario-based Canadian Solar published its first quarter earnings this week, beating its own guidance in terms of shipments and net revenue, and holding up well against previous quarters and expected losses in a declining solar prices market.
Canadian Solar released its first quarter earnings on Tuesday, revealing that the company had shipped a total of 1,480 megawatts (MW) of solar modules during the first quarter. This compares well with the 1,612 MW shipped in the immediately-preceding fourth quarter, and was well up on the company's own guidance of shipments in the range of 1,150 MW to 1,200 MW. Given global declines in solar prices, Canadian Solar's net revenue for the quarter was similarly healthy, hitting $677 million for the quarter, up slightly on the $668.4 million taken in during the fourth quarter, and again well up on the company's own guidance of revenue in the range of $570 million to $590 million.
"Solar module shipments and revenue in the first quarter exceeded expectations led by demand for our high performance solar modules out of China, Brazil, and the US, as well as unwavering execution on our total solutions business," said Dr. Shawn Qu, Chairman and Chief Executive Officer of Canadian Solar. "It is our expectation that as we continue to successfully execute our operating plan our share price will achieve a higher valuation in the market, one that more appropriately reflects the value of our operating assets, global project pipeline and prospects for continued success."
Net loss for the quarter was exactly the same as it was in the fourth quarter, $13.3 million, or $0.23 per diluted share.
It's worth noting that while the company appears to be holding its head above water in a global solar climate where prices have declined due to oversupply and fluctuations in demand, Canadian Solar still needs to be doing better if it is to wipe away the massive debt it has on the books. In the long run, then, analysts are unsure exactly how well Canadian Solar is doing, or what can really be expected from the company in this current climate.
Looking forward to the second quarter, Canadian Solar expects total solar module shipments to be in the range of between 1,530 MW and 1,580 MW, boasting "overwhelming demand" for solar modules in China, and healthy demand in Europe, the US, and Japan. Total revenue for the second quarter is expected to be in the range of between $615 million and $635 million.
Expanding the view out to the whole year, Canadian Solar now expects shipments to be in the range of between 6 and 6.5 GW, down on previous guidance of shipments in the range of 6.5 to 7 GW.
Source: cleantechnica.com