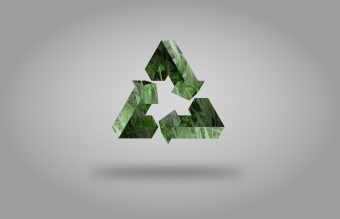 The circular economy could halve Europe's industrial emissions by 2050 and make it possible to keep global warming below 2°C.
That's according to a new report from Finnish innovation fund Sitra and the European Climate Foundation, which suggests implementing green business models, reusing materials and improving resource efficiency are key to building a competitive, net-zero emissions industrial economy in Europe.
Industry currently accounts for 24% of global carbon dioxide emissions, which stood at 37 billion tonnes in 2017.
It suggests making sectors that heavily rely on steel, plastics, aluminium and cement more circular can make a particularly significant difference in terms of reducing emissions.
The report says global reductions could reach 3.6 billion tonnes per year by 2050.
Jyrki Katainen, Vice-President of the European Commission, responsible for Jobs, Growth, Investment and Competitiveness, said: "Adoption of new, circular business models based on material reuse and improved efficiency can only bring benefits and give the European companies competitive edge.
"In parallel, it will lead to significant emission reductions, contributing to our ambitious climate policy targets and improving the quality of life in Europe. Clearly the winning strategy."
Source: Energy Live News