Swedish furniture giant IKEA announced a slew of commitments to encourage sustainable living, including a pledge to remove all single-use plastics from its product range globally and from its restaurants by 2020.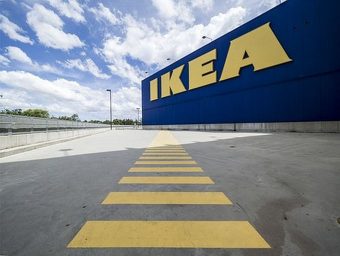 The plastics ban will apply to its 363 stores worldwide, owner Inter IKEA said Thursday.
IKEA joins a growing list of major retailers taking action against disposable items such as plastic drinking straws, cups and bags, which accumulate in the environment and leach into our oceans and harm marine life. Last month, the European Union announced plans to phase out single-use plastics in an effort to stop ocean pollution.
Among other measures announced today, IKEA plans to increase plant-based choices for its range of meals and snacks, including a veggie hot dog launching globally in August 2018; achieve zero emissions home deliveries by 2025; and to use only renewable and recycled materials in its products by 2030.
"Becoming truly circular means meeting people's changing lifestyles, prolonging the life of products and materials and using resources in a smarter way. To make this a reality, we will design all products from the very beginning to be repurposed, repaired, reused, resold and recycled," sustainability manager Lena Pripp-Kovac stated.
The company will also expand its offer of residential solar panels to 29 markets by 2025, and reduce the carbon footprint of every product by an average of 70 percent by 2030.
"Our ambition is to become people and planet positive by 2030 while growing the IKEA business," said Inter IKEA Group CEO Torbjörn Lööf in a statement. "Through our size and reach we have the opportunity to inspire and enable more than one billion people to live better lives, within the limits of the planet"
Although IKEA is best known for its ready-to-assemble furniture, the company has taken major steps to address its environmental footprint. It has already invested heavily in renewable energy, including wind farms and solar panels on its stores. In 2015, the company pledged $1.13 billion to address the effects of climate change in developing countries.
Greenpeace plastics campaigner Graham Forbes called IKEA's decision to remove single-use plastic products from its stores by 2020 "a great step in the right direction" and encourages other retailers and corporations to follow suit.
"A truckload of plastic enters our oceans every minute, and plastic pollution has been found in remote locations like the Antarctic, the Arctic, and even the deepest point of the ocean, the Mariana Trench," Forbes noted. "IKEA has taken an important first step toward delivering the sort of bold action required by reducing plastic pollution at the source, although it's important for the company to remove these single-use products and not simply substitute bioplastics or other environmentally harmful materials. The momentum is on our side, and the days of single-use plastics are numbered."
Source: Eco Watch