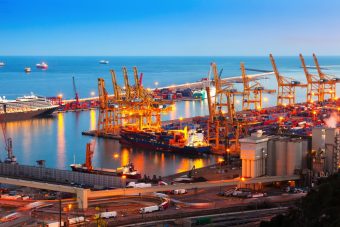 The conference ''TRANSPORT AND LOGISTICS: IN THE HEART OF THE ECONOMY'' will take place on October 26th, 2023, at 10:00 a.m., at the Serbian Chamber of Commerce, Resavska 13 – 15, Belgrade.
Structured as an interactive and dynamic dialogue, the 2nd annual conference, aims to offer innovative solutions and new strategies but in the same time identify critical issues related to transport and logistics sector such as: the impact of global economic-geopolitical trends and search for a unique strategy footprint, development of agile and resilient supply chain strategies, reducing CO2 emissions – The Green Deal, facing current challenges: from increased operating costs in logistics to the explosive growth of e-commerce, visions for the future of Women in logistics, pursuing digital initiatives and new AI mechanism, efforts to support regional economic integration with a focus on possible trade and transport facilitations.
Participans include official representatives of the World Bank, Ministry of Construction, Transport and Infrastructure of Serbia, Ministry of the Sea, Transport and Infrastructure of Croatia, Customs Administration of Italy, Custom Administration of Serbia, Italian National Association of Transport companies, Slovenian Association of Transport Companies, Port of Rijeka, Slovenian Railways Freight Transport SŽ – Tovorni promet, and Croatian Railways, directors of leading transport companies such as MSC Global Shipping Company, Moller Maersk Group, Dragon Maritime Group, Transfera, Fercam, Intereuropa AD, Nelt, Samer & Co. Shipping, Metrans Grupa, Srbija Kargo, Milšped, but also IMLEK, Ananas, as well as numerous supply chain experts, local and foreign industry representatives.
The conference is organized jointly by the Association of Italian Industrialists – Konfindustrija Srbija, the Chamber of Commerce of Serbia, the Slovenian Business Club and the Croatian Chamber of commerce.
Click here to donwload the conference AGENDA.
By participating you will gain valuable insights from industry experts to better navigate the constantly evolving transport and logistic landscape
Don't miss this opportunity!
Click on the link to register.
Source: Confindustria Serbia