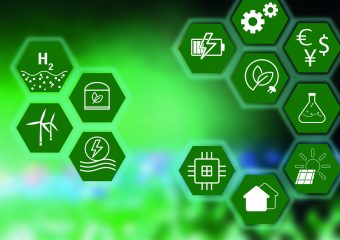 ABB has been contracted by Danish company H2 Energy Esbjerg ApS to provide basic electrical engineering for the power distribution from grid point of connection to electrolyzers, and for other process equipment at its 1 GW hydrogen production facility in Esbjerg and hydrogen distribution hub in Fredericia, Denmark. The plant, among the largest hydrogen developments in Europe, will produce up to 90,000 tons of hydrogen per year – the equivalent of about 1.9 million barrels of oil per year.
With this project, booked in Q3 2023, ABB will build on its expertise in the Power-to-X sector (PtX) for the development of green hydrogen, which already includes collaborations in Sweden, Norway, and elsewhere in Denmark.
More:
The PtX facility in Esbjerg, scheduled to start operating by 2027, will convert renewable electricity from offshore wind into green hydrogen to support the decarbonization of heavy industry and road transportation. The hydrogen may also be used for the production of green e-fuels like methanol and ammonia.
"ABB is focused on supporting the EU's priority to develop renewable hydrogen," said Per-Erik Holsten, Head of Northern Europe at ABB Energy Industries. "We are increasingly active in the pioneering Power-to-X market which is essential in meeting global energy transition goals and achieving a low carbon society in the future."
"It was important to collaborate with a company that has the knowledge of managing energy consumption and optimizing energy efficiency during green hydrogen production," said Julian O'Connell, Project Director of H2 Energy Esbjerg ApS. "It is also critical to ensure we have a reliable and readily available supply of power to support operations at the distribution hub."
The project by H2 Energy Esbjerg ApS is expected to create up to 60 permanent jobs and supply enough green hydrogen to meet the annual fuel consumption demands of more than 10,000 trucks, around half of all trucks in Denmark, and for heavy industry.
The International Energy Agency's Global Hydrogen Review1 says the pipeline of projects for the production of low-emission hydrogen is growing at an impressive speed and it could reach up to 24 Mt per year by 2030, if all projects are realized.
Source: ABB