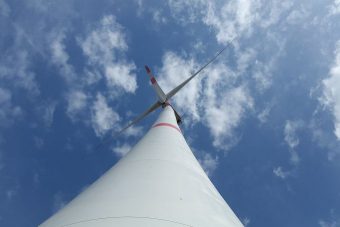 In March, EcoWatch reported that Costa Rica powered the first 82 days of the year solely with renewable energy. Now that we're closing in on the end of the year, the Costa Rican Electricity Institute (ICE) announced that the country ran entirely on renewables for 285 days between Jan. 1 and Dec. 17.
"We are closing 2015. with renewable electricity milestones that have put us in the global spotlight," ICE electricity division chief Luis Pacheco told to AFP. The majority of the country's energy (75 percent) comes from hydropower, thanks to a vast river system and abundant rainfall, and the rest of its renewables come from geothermal, biomass, wind and solar.
Despite a very dry year, ICE said it was ahead of its renewable energy targets and Pacheco predicted that 2016. would be an even better year because a new $2.3 billion hydroelectric plant will be coming online. The country reportedly wants to move away from its dependency on hydropower, though, and harness more of its electricity needs from geothermal and wind. It plans to retire its heavy fuel oil-powered Moin plant in 2017. and wants to move its transportation sector away from fossil fuels.
The country has made all this progress, while reducing overall energy costs, which fell by 12 percent this year and the ICE expects costs to keep falling. "The government has pledged to build an electric train which will be integrated with public buses," Gabriel Goldschmidt, regional head of infrastructure for Latin America and Caribbean at the International Finance Corporation, which is part of the World Bank, told the Huffington Post. "There is also a proposal to start replacing oil-powered cars with electric cars as part of a new bill in congress that aims to offer consumer incentives to lower the prices of these cars.
This would have multiple benefits including better air quality. "Costa Rica's heavy reliance on hydropower has been criticized by some. Gary Wockner of Save the Colorado argues that hydropower is actually "one of the biggest environmental problems our planet faces" and a "false solution" for addressing climate change. "Hydropower has been called a 'methane factory' and 'methane bomb' that is just beginning to rear its ugly head as a major source of greenhouse gas emissions that have so-far been unaccounted for in climate change discussions and analyses," Wockner said last month.
Still, the country is among the vanguard of nations around the world moving towards a 100 percent renewable energy future. Several countries have hit impressive benchmarks for renewables in just a few short years. And many places have already made the transition to fossil-fuel-free electricity.
Samso in Denmark became the world's first island to go all in on renewables several years ago. Most recently, Uruguay, three U.S. cities—Burlington, Vermont; Aspen, Colorado; and Greensburg, Kansas—along with Kodiak Island, Alaska, have all made the transition. San Diego, Vancouver, Las Vegas and other major cities around the world have pledged to go 100 percent renewable. Sweden made headlines earlier this year when it pledged to be among the first countries to go fossil free.
Hawaii pledged to do so by 2045—the most ambitious standard set by a U.S. state thus far. Several other islands, including Aruba, Belize, St. Lucia, Grenada, the British Virgin Islands, the Bahamas, Turks and Caicos, and San Andres and Providence have pledged to go 100 percent renewable, through the Ten Island Challenge, created by Richard Branson's climate group the Carbon War Room. Greenpeace and researchers at Stanford and UC Berkeley have laid out plans for every state in the U.S. to adopt 100 percent renewables and a Greenpeace report published in September posits the world can achieve 100 percent renewable energy by 2050. Mark Jacobson, one of the researchers from Stanford, said the barriers to 100 percent clean energy are social and political, not technical or economic.
Just last week, Tesla CEO Elon Musk said in an interview that "You could take a corner of Utah or Nevada and power the entire United States with solar power." And, it looks as if the Paris climate conference earlier this month helped create market certainty in renewables, as fossil fuel stocks tumbled and renewable energy stocks soared. After the landmark Paris agreement was reached, the coal industry's European lobbying association feared that the deal meant the sector "will be hated and vilified, in the same way that slave traders were once hated and vilified."
Source: www.ecowatch.com