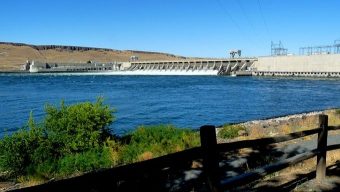 There are an estimated 84,000 dams in the U.S., blocking more than 17 percent of rivers in the nation. Dams are interrupting wildlife habitats, damaging the ecosystem and impacting the global climate cycle, according to a new study in Nature Communications.
Researchers from the University of Waterloo and Université libre de Bruxelles, reveal that nearly one-fifth of the organic carbon that moves from land to ocean is trapped by man-made dams. The reservoirs can act as a carbon sink or significant source of greenhouse gas emissions, which, the researchers say, are not properly represented in climate change models. More than 90 percent of the world's rivers are projected to be blocked or rerouted by at least one dam within the next 15 years.
The new information is helping climate scientists track carbon and get a better understanding of the overall carbon cycle, which is critical in mitigating the impacts of climate change, including severe drought, flooding and sea level rise.
"Dams don't just have local environmental impacts. It's clear they play a key role in the global carbon cycle and therefore the Earth's climate," said Philippe Van Cappellen, co-author of the study. "For more accurate climate predictions, we need to better understand the impact of reservoirs."
But dams don't just affect the carbon cycle, they interfere with vital nutrients. The researchers found that ongoing dam construction blocks the transport of phosphorus, nitrogen and silicon from flowing into wetlands, lakes, floodplains and coasts downstream. This alters the entire ecosystem, and the wildlife and marine life dependent on it.
Dams have also been found to be a significant contributor to greenhouse gas emissions. According to a 2016 study, published in the journal BioScience:
"Much attention has been paid to negative impacts of dams on fish and other riverine biota, but the indirect effects on biogeochemical cycling are also important to consider. Although reservoirs are often thought of as "green" or carbon-neutral sources of energy, a growing body of work has documented their role as greenhouse gas sources. Artificial reservoirs created by dams are distinct from natural systems in a number of key ways that may enhance greenhouse gas emissions from these systems."
"Methane emissions at Hoover Dam have been estimated to be as bad as carbon emissions from coal-fired power plants," said Gary Wockner, river activist and board member of Waterkeeper Alliance. "Hoover Dam in 1937 was the planetary genesis of megadams and the hydropower industry, and now it's likely also a big contributor to climate change."
"If we keep building dams around the world, especially in warm environments, global climate change emissions likely won't slow down no matter how much coal and gas stays in the ground," Wockner concluded.
Source: ecowatch.com