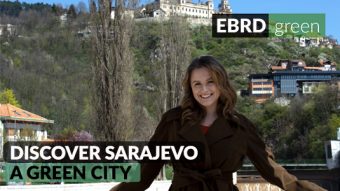 Sarajevo is a city of contrasts. It is home to both western and oriental architecture; it is surrounded by beautiful mountains and forests but suffers from worrying air pollution; its history is troubled but its people possess incredible spirit and humour.
However, the city is evolving. Several construction sites around Sarajevo – from extensions to tram tracks to refurbished public buildings – are changing the landscape and lifting spirits because people can see the city is investing in its future. Thanks to these developments, Sarajevo will be more resilient and sustainable, with improved environmental and living conditions.
Many of these developments started a few years ago when Sarajevo joined the EBRD's Green Cities Programme. The initiative supports cities in identifying and planning priority projects that can help them become greener and more sustainable. The EBRD also provides financing for such investments, often co-financed with grants by the European Union (EU), and other donors.
Better public transport
Air pollution in Sarajevo is a huge concern. It can reach hazardous levels, especially during the winter. So to reduce traffic congestion and pollution the city is encouraging people to use public transport instead of private cars. This is done through much-needed investment in the transport network, which will make services faster and more efficient.
For example, 35 new trolleybuses will arrive in the city by the end of 2022, financed by EBRD and European Investment Bank (EIB) loans. In fact, they will be the first new trolleybuses that the city has purchased since the Winter Olympics 38 years ago.
These new zero-emission trolleybuses can run on a battery and can produce and store enough energy to run without charging for 20 hours.
The tram network is also being improved. New and extended tracks will allow the roll-out of faster and more modern trams and connect some new districts in the city where the tram service didn't previously exist.
Energy efficiency in public buildings
The student accommodation block Nedzarici is hidden behind scaffolding, and around 20 builders are working to finish renovations by June. They will replace old windows with 380 new energy efficient ones, install thermal insulation on external walls and replace old lighting with efficient new bulbs. All this will help reduce the energy needed to heat the building while making it more comfortable for the students who live there.
The student block is one of 40 buildings in the city that will be renovated as part of this project, financed with an EUR 8 million EBRD loan and a EUR 2 million European Union (EU) grant. The investments will cover 29 schools and related facilities, 6 kindergartens, 3 student blocks and 2 outpatient clinics. The energy savings are estimated to be around 13.7 GWh, resulting in CO2 reduction equal to removing around 1000 cars from the street.
Improved water supply
Another way Sarajevo is becoming greener is by improving its water supply. A EUR 25 million EBRD loan and EUR 4 million grant from the EU through the Western Balkans Investment Framework have allowed the city to modernise its water and sewerage infrastructure. This will help reduce water leaks in the network and secure more efficient and reliable water and wastewater services in the canton of Sarajevo.
"We are truly proud of our joint work with Sarajevo canton and the progress they have made since joining our Green Cities programme, taking advantage of all the opportunities on offer. We are already investing in the eight project with the Canton and once completed these projects will have a remarkable impact on the city environment," explains Manuela Naessl, EBRD Head of Bosnia and Herzegovina.
"Investing in the green economy remains one of our key strategic priorities and the EBRD and its donors stand ready to provide finance and support for it. We look forward to developing new projects including a renewable energy district heating system, which we are currently exploring."
Green City projects in Sarajevo are supported by the European Union, Austria, Japan, Central European Initiative, Italy and the Western Balkans Investment Framework.
Source: EBRD