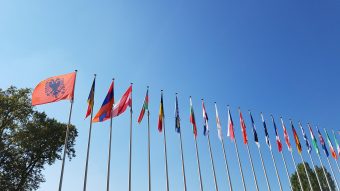 Europe Day commemorates the signing of the "Schuman Declaration" on 9 May 1950. An ambitious plan to secure long-term peace in post-war Europe that is considered the beginning of what is now the European Union. The importance of working for peace in Europe is all the more evident, as we highlight our unity and solidarity with Ukraine.
The Schuman Declaration was presented by French foreign minister Robert Schuman on 9 May 1950. It proposed the creation of a European Coal and Steel Community, whose members would pool coal and steel production.
The ECSC (founding members: France, West Germany, Italy, the Netherlands, Belgium and Luxembourg) was the first of a series of supranational European institutions that would ultimately become today's "European Union".
Historical context
In 1950, the nations of Europe were still struggling to overcome the devastation wrought by World War II, which had ended 5 years earlier.
Determined to prevent another such terrible war, European governments concluded that pooling coal and steel production would – in the words of the Declaration – make war between historic rivals France and Germany "not merely unthinkable, but materially impossible".
It was thought – correctly – that merging of economic interests would help raise standards of living and be the first step towards a more united Europe. Membership of the ECSC was open to other countries.
This May the EU institutions invite you to a wide range of online and on-site activities across the EU Member States, as well as in the home of the EU institutions in Brussels, Luxembourg and Strasbourg. As the 2022 European Year of Youth shines a spotlight on Europe's young people and with citizens' voices amplified by the Conference on the Future of Europe there's never been a better time to come together, discuss the challenges we all face and create a better future for Europe that works for everyone.
Explore what's on offer online and in person this Europe Day! Check out factsheet for highlights of what's happening across the EU.
Source: European Union