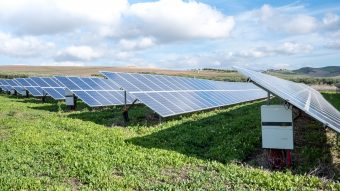 The state-owned power utility HSE launched on Friday a 3.036-megawatt solar power plant in a rehabilitated and closed section of the Prapretno landfill near Hrastnik. The largest facility of the kind in the country, worth EUR 2.5 million, is expected to provide electricity for around 800 households.
A total of 6,748 photovoltaic modules installed at the former brownfield site will produce more than 3 GWh of electricity a year, and the plan is to expand it to a total installed power of 14 megawatts.
HSE said that the launch of the solar power plant in the former coal mining region was an investment in security of electricity supply that followed EU guidelines on reducing carbon emissions.
HTZ, a subsidiary of the coal mine operator Premogovnik Velenje, was hired to supply the equipment and install and launch the power plant.
The opening ceremony was attended by Prime Minister Janez Janša, who noted that Slovenia now had sustainable and green energy sources at its disposal after decades of production of electricity mainly from fossil fuel sources.
He added that the state would give back to regions where coal had been extracted for electricity production by providing funds from the Just Transition Fund.
The prime minister noted that the energy crisis in the aftermath of Russia's attack on Ukraine made the resources Slovenia had at home more valuable today than in the past, adding that Slovenia needed to continue to build small hydro and solar power plants.
HSE director general Viktor Vračar said that the new installation pursued the objective of secure and reliable electricity supply, adding that international events had forced Slovenia to strategically restructure its energy sector.
The goal is decarbonisation and reduced dependence on foreign energy, and this means investment, he said, adding that the ECB had assessed that EUR 350 billion was needed for this over the next decade.
Hrastnik Mayor Marko Funkl added that the municipality would establish this month an energy cooperative for the "transition from brown to green" that would build the largest cooperative solar power plant in the country.
The 300 KW array will be installed on the roof of a local primary school, Funkl said, adding that "energy is returning to the Zasavje region in green form."
Source: Total Slovenia New