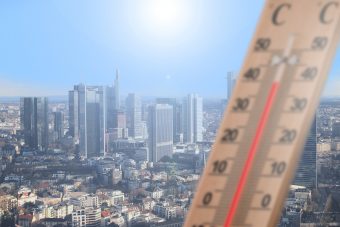 From mountain tops to ocean depths, the summer of extremes continues. Heatwaves are baking large parts of the northern hemisphere, fuelling unprecedented wildfires and disrupting marine ecosystems. Floods have transformed desert landscapes. The high-impact weather in August follows the hottest ever month on record in July.
"This is the new normal and does not come as a surprise," said Alvaro Silva, a climate expert with WMO. "The frequency and intensity of many extremes, such as heatwaves and heavy precipitation, have increased in recent decades. There is high confidence that human induced climate change from greenhouse emissions is the main driver. This gives us the long-term context for the increasing occurrence and severity of such extreme weather and extreme events," he told a regular media briefing in Geneva.
He said that the behaviour of the jet stream was also a contributing factor – its position has sometimes been. More southern than usual and has been meandering in some regions generating blocking (persistent weather pattern) conducive of extreme weather events such as heat waves as warmer air is pulled from subtropical regions.
"There are several studies suggesting a connection between rapid warming and changes in the Arctic, due to human-induced climate change, and mid latitude weather patterns, including in atmospheric dynamics such as the jet stream but further in depth research is needed to fully understand and explain the extremes occurring this summer," said Mr Silva.
Heat-health alerts
Moderate and severe heat warnings for the third week of August have been issued by several national meteorological and hydrological services in Europe, including from France, Switzerland, Germany, Poland, Croatia, Italy, Greece, Hungary, Austria, Lithuania.
Much of Switzerland is under level three amber alert or the top-level red alert (as with the case of Geneva) until Thursday.
The heat has reached new heights. Switzerland has a new altitude record for the freezing point of 5,298 m (17,381 feet), measured by a Meteo-Suisse radiosonde carried by a weather balloon above Payerne.
"Another blow for glaciers that have already strongly suffered this year. Snow coverage is only present at the highest elevations," said Matthias Huss, head of Switzerland's glacier monitoring network and a member of WMO's Global Cryosphere Watch community.
Temperatures in much of the southern half of France are forecast to be above 37°C on 22 and 23 Augusts, reaching a peak of 40 to 42°C in the Drome region. Meteo-France issued an amber alert for 49 departments and a red alert for four. It says that numerous station records have fallen both maximum daytime temperatures and minimum overnight ones – which have a particular impact on health.
More:
There are also red alerts in parts of Italy, Croatia and Portugal and widespread amber heat alerts in neighbouring countries.
Norway, which has suffered prolonged heavy rainfall, floods and landslides, is once again under a top-level red alert for rain in the southern part of the country.
Morocco set a new national temperature record of 50.4 °C in Agadir on 11 August, as temperatures crossed 50°C for the first time. Turkey reported a new national temperature record of 49.5°C on 15 August, beating the previous record of 49.1°C set in July 2021. Many parts of the Middle East also saw temperatures of above 50°C.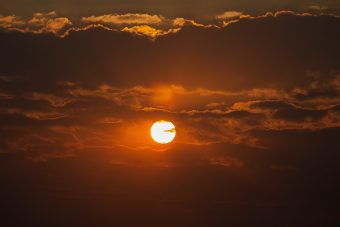 Spain, including the Canary Islands, and Portugal also experienced extreme heat, fuelling an extremely severe fire risk. As of 17 August, the Tenerife wildfire continued out of control, with more than 2600 ha burnt and people evacuated in some sites. Dry conditions, maximum temperatures above 30 °C, night temperatures above 20 °C, peak wind gusts above 50 km/h were observed on 16 and 17 in some AEMET weather stations of Tenerife.
Greece, badly scarred by wildfires in July, was again hit by fatal fires, leading to a number of reported deaths.
Japan has also suffered a prolonged heatwave, with many station records broken, according to the Japanese Meteorological Agency.
WMO is stepping up efforts to strengthen heat-health early warnings and integrated action plans for heatwaves, which are amongst the deadliest natural hazards. Heat is a rapidly growing health risk, due to burgeoning urbanisation, an increase in high temperature extremes, and demographic changes in countries with ageing populations. Hundreds of thousands of people die from preventable heat-related causes each year.
A new study published in July, calculated last summer in Europe alone 60,000 additional people died due to extreme heat. Experts and governments consider this a conservative estimate. And it is worth noting, the figures are for Europe, which has some of the strongest early warning systems and heat-health action plans in the world," said Joy Shumake Guillemot, of the World Meteorological Organization/World Health Office joint office on Climate and Health.
North America
Canada's record-breaking wildfire season continues. More than 660 wildfires were out of control in Canada as of 22 August. In total there are more than 1 000 active fires, including 265 in the Northwestern Territories near the Arctic Circle. The Canadian Interagency Forest Fire Centre says that 15.3 million hectares have burnt so far this season – by far the worst fire season on record for Canada. Authorities issued an evacuation order for the town of Yellowknife.
The EU's Copernicus Atmospheric Monitoring Service said the estimated emissions from the wildfires through August increased to three times the previous highest annual total in 2014 at just over 350 megatonnes of carbon.
Environment and Climate Change Canada issued heat warnings in western Canada and widespread poor air quality warnings. Some daily temperature records were observed for example in Lytton, a new August temperature record of 42.2 °C on 15 August 2023. (Old record of 40.6 °C set in 1967 and records in this area have been kept since 1921).
In the United States, the US National Weather Service says intense and dangerous heat continues to grip the Plains and much of the Central and Southeast U.S. with maximum temperature forecasted to be above 100 °F (38 °C) in many parts and numerous daily temperature records expected.
Tropical Cyclones
Tropical cyclone activity is ramping up on the approach to the traditional peak of the Atlantic hurricane season.
The US National Hurricane Center, which acts as WMO's Regional Specialized Meteorological Center, on 22 August is issuing forecasts and warnings for three tropical systems in the Atlantic (Gert, Franklin and Harold).
Franklin is forecast to reach the southern coast of Hispaniola on Wednesday, traverse the island and move off of the northern coast on Thursday, bringing the risk of flooding to Haiti and the Dominican Republic.
Maximum sustained winds remain near 50 mph (85 km/h) with higher gusts. Franklin is expected to produce rainfall amounts of 5 to 10 inches (127- mm), with isolated higher amounts up to 15 inches (380 mm), are expected. Significant and potentially life-threatening flash flooding is possible Tuesday into Wednesday across Hispaniola.
Tropical Storm Harold is forecast to make landfall along the lower Texas coast on 22 August, bringing very heavy rainfall and the risk of flash flooding.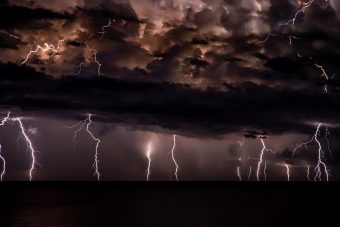 The tropical storm moving toward southern Texas comes as the region battles extreme heat and drought.
Ex-hurricane Hillary
Hilary, which at its peak was a category 4 storm, weakened before making landfall in Baja California, Mexico, on 20 August. It has now dissipated, but has made history. The National Hurricane Center (NHC) issued its first ever tropical storm warning for parts of southern California. It is quite rare for a tropical storm or hurricane to maintain its strength and tropical characteristics in California because of cool ocean waters and currents as well as prevailing trade winds.
Despite weakening, Hilary brought flooding rains to Baja California and Southern California, an area that is not used to seeing tropical rainfall, especially in the dry season. Desert towns like Palm Springs were under water, with major disruption to transport and infrastructure.
Hilary brought record rainfall to southern California and parts of Nevada. The US National Weather Service Los Angeles said "virtually all" its rainfall records were broken.
Death Valley, in California, which holds the record as the world's highest temperature, sawits all-time wettest day on record on 20 August, with 2.20 inches (55.88 mm) of rainfall. This breaks the previous record of 1.70 inches set in August 2022.
Source: WMO